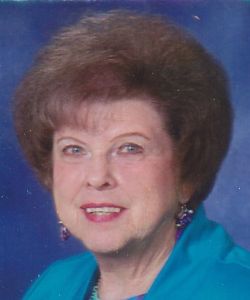 Betty Ann Crick
2/6/1936 - 11/6/2021
Betty Ann Crick, age 85, died peacefully in the presence of her family on November 6, 2021. Betty was born February 6, 1936 in Washington, Missouri to Reinhard and Sylvia Bunge. She was preceded in death by her husband, Richard Roe Crick and son, Randall Ray Crick.

Betty leaves to cherish her sweet memory one son, Richard Roe Crick, II (Rick) and daughter-in-law, Patty Crick, of Weatherford; one daughter, Margaret Ann Scales and son-in-law, Ricky Scales, of Wichita Falls. Betty leaves behind nine grandkids who will forever remember her great backrubs, and eight great-grandkids along with many other friends and relatives.

Betty and her husband, Richard, settled in Kerrville, Texas where they owned and operated several local businesses, the first being Crick's Furniture. Rarely apart from one another, much of Betty and Richard's time was spent helping others and serving at First Christian Church of Kerrville.

Betty will be remembered most for the smile on her face and her kind and sweet spirit. She will be deeply missed by her friends and family and all who knew her.

A private family celebration of Betty's life will be held at a later date. In lieu of flowers, friends may make memorial contributions to Christian Women's Job Corps of Kerr County, The Salvation Army, or First Christian Church in Kerrville.


Obituary Provided By:



www.grimesfuneralchapels.com
info@grimesfuneralchapels.com
830-257-4544