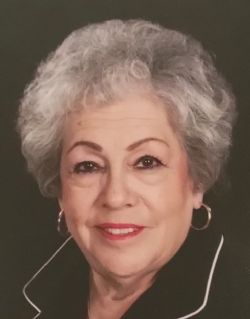 Beatrice Leal
5/10/1935 - 11/13/2021
Beatrice Leal, 86, of Kerrville, went to be with our Lord, on November 13, 2021, peacefully at her residence. She was born in Kerrville, Texas to Blas Ramirez and Louisa Garcia Ramirez on May 10, 1935. She married Fidel G. Leal on December 27, 1952.

Beatrice retired from James Avery Craftsman after 39 years. Not only was she a jewelry craftsman, she was a well-known local seamstress that made Wedding and Quinceanera dresses, Baptism gowns, and costumes. She was a member of Notre Dame Catholic Church.

Beatrice is preceded in death by her husband, Fidel G. Leal; mother, Louisa Garcia Ayala; father, Blas Ramirez; stepfather, Santana Ayala; sister, Josie Lopez; daughter-in-law, Glenda Leal; son-in-law, Manuel "Buck" Castro; and great-grandson, Isaac Perez.

She is survived by her children, Jose Alfredo "Fred" Leal, Ernest Leal, Yvonne Leal Castro, Amanda Leal, and Fidel Leal Jr.; her sister, Rachel Constante; brothers, Tony Ayala, Mike Ayala, and Richard Lopez; 10 grandchildren; 21 great-grandchildren; and 3 great-great-grandchildren.

Visitation will be from 4-6 PM, followed by the Rosary at 6 PM, on Friday, November 19, 2021 at Grimes Funeral Chapels, officiated by Deacon Sonny Kaufhold and Deacon Jimmy Bill.

Mass will be at 10 AM, Saturday, November 20, 2021 at Notre Dame Catholic Church with Father David Wagner as celebrant. Interment will follow at Garden of Memories Cemetery.

Pallbearers will be Ryan Valdez, Jonathon Leal, Quinton Castro, Jesse Constante, Ernest Constante, and Brad Blei.

Honorary pallbearers will be Christian Hugaert, Jordan Hugaert, Andrew Garcia, Jacob Perez, Noah Adams, Ezekiel Perez, and A.J. Ayala.

In lieu of flowers, memorials may be made to Alamo Hospice.


Obituary Provided By:



www.grimesfuneralchapels.com
info@grimesfuneralchapels.com
830-257-4544