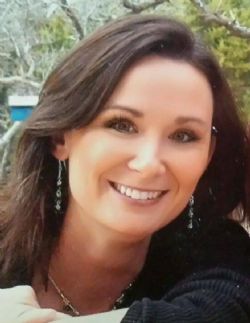 Angela Denise Miears
7/13/1972 - 6/18/2022
Angela Denise Miears, 49, of Kerrville, Texas, passed away on June 18, 2022 in San Antonio. Angela was born in Pasadena, Texas on July 13, 1972. She married her high school sweetheart, Brian Keith Miears, on December 8, 1990 in Kerrville, Texas.

Angela is preceded in death by her parents, Woody and Debbie Whatley, her maternal grandmother, Jacqueline Harris, her paternal grandparents, Oscar Wayne and Billie Adele Whatley.

Angela is survived by her adoring husband Keith Miears, her two children Kendall Nguyen and her partner Tina, and Hudson Miears and his wife Eleonora; her mother and father in-law Kathy and Buddy Miears; her five sisters, Melony Whatley, Sunshine Harrison and her husband Parker, Autumn Whatley and her husband Ky, Cheyenne Luna, Scarlett Miears and her husband Greg; her brothers-in-law Gary Miears and his wife Robin, and Greg Miears and his wife Scarlett; her nieces and nephews Nicole Shively and her partner Tyler, and children Jacob and Audrey, Kaitlin Shively and her children Carter, Cain, and Cross, Rainy White and her husband Dakotah and daughter Ivy, Tate Harrison, Caleb, Layla, and Bryar Selgrath, Deuce and Odis Broom, Stormi and Rowdy Luna, Hunter Miears and his wife Taylor, and Cole Miears; and her two dachshunds Otis and Cooper.

Angela was a loving daughter, wife, mother, sister, aunt and honorary grandmother. She was admired for her devotion to her family, especially her husband Keith, with whom she spent her whole life together in love, and her children, who made her eyes sparkle with admiration. She poured her love into every member of her family, and all of them accepted her love as a blessing. Her family will remember her for her beautiful smile, her laughter, and her quirky personality. We feel comfort in knowing that Angela is sitting and laughing with her mother and father, drinking coffee and sharing stories.

Visitation will be held 5-7pm on Wednesday, June 22, 2022 at Grimes Funeral Chapels.

Funeral Services will be held at 10:00am on Thursday, June 23, 2022 at Grimes Funeral Chapels. Burial will follow at Garden of Memories.


Obituary Provided By:



www.grimesfuneralchapels.com
info@grimesfuneralchapels.com
830-257-4544