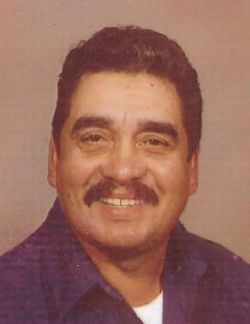 Luciano Cervantes
1/8/1941 - 1/15/2023
Luciano Cervantes, age 82, passed away on Sunday, January 15, 2023 in Kerrville, Texas. He was born in Fredericksburg, Texas (Gillespie County) to Antonio and Lorenza Cervantes on January 8, 1941. He married Anita Ozuna Ayala on May 5, 1961 at Notre Dame Catholic Church in Kerrville, Texas.

He worked as a truck driver for many years at Central Freight Lines until he took up the skill of building swimming pools with Hill Country Pools. Later, he went into self-employment of pool and spa building as well as rock work. He was a member of Notre Dame Catholic Church where he made his Cursillo in the mid-1980's. He made his ACTS retreat in 2016 in San Antonio, Texas. He enjoyed playing baseball and was a part of the Kerrville Indians in the 1960's. He loved to sing and play his guitar. For leisure, he enjoyed fishing and "eating" his catch.

Luciano was preceded in death by his father, Antonio Cervantes; mother, Lorenza Cervantes; brother, Fred Cervantes; and sister, Mary Martinez.

Survivors include his wife, Anita Cervantes and children, Angie Nombrano, Mr. & Mrs. Jimmy Cervantes, Luciano Cervantes Jr., and Luis Cervantes. He has 8 remaining brothers and sisters; 6 grandchildren, Ruben Nombrano III, Felicia Marie Cervantes, Rosanna Nombrano, Leslie Anne Cervantes, Keegan Cervantes and Kinley Cervantes; 9 great-grandchildren; and many nieces and nephews.

Rosary will be at Grimes Funeral Chapels on Wednesday, January 18, 2023 at 6:00 p.m., with viewing beginning at 4:00 p.m.

Funeral services will be held at 9:00 a.m. on Thursday, January 19, 2023 at Notre Dame Catholic Church with Fr. Rafal Duda officiating. Burial will follow at Garden of Memories.

Pallbearers will be Santos Cantu, Robert Ayala Sr., Robert Ayala Jr., Isidro Ayala, Gilbert Ayala Jr., and Lucas Alvarez.

Memorials may be given to Peterson Hospice or Riverhills Health and Rehabilitation.

The family wishes to extend our sincere thanks to all the staff at Peterson Hospice, Riverhills Health and Rehabilitation, nurses Betty, Elizabeth, Anthony, Rolando and many, many others.


Obituary Provided By:



www.grimesfuneralchapels.com
info@grimesfuneralchapels.com
830-257-4544