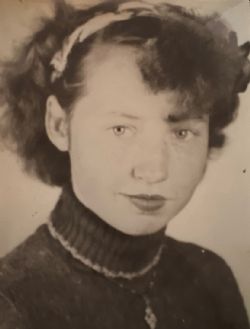 Frances Lorraine Evans
9/22/1938 - 3/15/2023
Frances Lorraine Evans, 84, passed away peacefully at home in Ingram, Texas on March 15, 2023. She was born September 22, 1938 in Three Rivers, Texas to Louis Rowland Stow and Lillian Lucille Hardin. She married Charlie Calvin Evans on June 21, 1954 in Kerrville, Texas.

Frances was preceded in death by her husband, Charlie Evans and two sons, Cecil Floyd Evans and Clyde Wayne Evans.

Her survivors include two sons and a daughter: Claude Rowland Evans, Calvin Charlie Evans and Alice Mae Evans, all of Ingram. She had numerous grandchildren, great-grandchildren, and even great-great grandchildren, amongst many other family and friends whom she loved dearly.

Visitation will be 5-7 PM, Saturday, March 18, 2023 at Grimes Funeral Chapels.

Graveside services will be held at 2 PM, Sunday, March 19, 2023 at Nichols Cemetery, officiated by Randy Dean.

Pallbearers include Cecil Evans, Cameron Evans, Calvin Evans, Charlie Evans, Claude Evans and Chad Evans.
Obituary Provided By:



www.grimesfuneralchapels.com
info@grimesfuneralchapels.com
830-257-4544