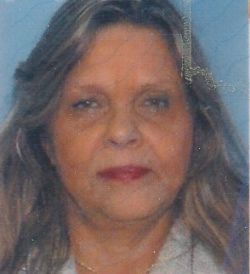 Terri Lynn Woods
11/22/1960 - 8/28/2023
Terri Lynn Woods went home to our Lord and Father, August 28, 2023.

She was born November 22, 1960 to Ralph and Janet Deems, along with her twin sister, Sherri.

Terri had one of the most giving and beautiful souls. She would help anyone in need, including complete strangers, even if it meant sacrificing things for herself.

She was a loving and devoted mother, grandmother and great-grandmother, affectionately known to her grandkids as Ya-Ya. She was a caring daughter, sister and a great friend to many.

Terri loved Harleys, Christmas, Westerns, Mama June, Rachel Ray and Judge Judy. Her and mom had a strict schedule to watch these things together.

She had many struggles in life but never let that stop her loving, giving nature from always coming through.

She was preceded in death by her twin sister, Sherri Leal; her father; grandparents; and sister, Tracey Morrison.

She is survived by her daughter, Christy (Jason) Sottosanti; grandkids, Caitlyn Tompkins, Ivan (Stephanie) Butcher, Violet, Azalea, Ignazio and Zoe Sottosanti; great-granddaughter, Sage Jace Haas; mother, Janet Deems; sisters, Starla (Fred) Ball, Tamara Hayes, Leslie Deems; and ex-husband, Keith (Shawn) Woods. There are too many nieces and nephews, great nieces and nephews to list; and a long line of great friends. And Terri loved them all.

In lieu of cards and gifts, you can make a donation to the charity of your choice to reflect her giving nature or plant a tree in her memory.

Services will be held privately at a later time.


Obituary Provided By:



www.grimesfuneralchapels.com
info@grimesfuneralchapels.com
830-257-4544