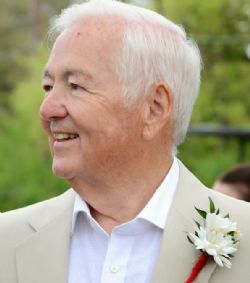 Tom Deupree
12/8/1941 - 9/11/2023
Tom 'Pops' Deupree, 81, passed away on September 11, 2023, surrounded by loved ones at his home in Hunt, Texas after a cardiac event. Tom touched so many lives throughout his time on earth and was a wonderful example of fulfillment through faith and family. We are all so grateful for the time we were able to spend with him.

Tom was heavily involved in every community he was apart of: Tulsa, OK, Irving, TX, and Hunt, TX. The ever-faithful Tom was a staple of his church, St. Marks in Irving and St. Michael and All Angels Church in Kerrville. He regularly served at the altar and in the church choir, has volunteered for his local Young Life chapter, and Pathways. One of his biggest sources of pride was his 7 brilliant grandchildren. As the most amazing and involved grandfather, he was present for every birth, soccer, baseball, volleyball game, tennis match, school event or graduation that he possibly could.

He is survived by his wife, Penny; his children and their spouses, Tad and Gina, Matt and Heather, Keri and Pat; his grandchildren, Taylor, Tera, Tabby, Alyssa, Lawsin, Parker and Rylan; his great-grandchild, Thomas; and his boys, Tucker and Cisco.

A memorial service will be held at Camp La Junta on October 21st, 2023. If you would like to attend or send something to the family, please email keri@grapejuiceonline.com for more details.

A memorial service in Dallas will be held at 3 PM, November 18, 2023, at Church of the Holy Communion Cathedral, with a reception to follow.

In lieu of flowers, please send donations to either Young Life https://giving.younglife.org/memoryoftomdeupree or St. Michael and All Angels Anglican Church of the Hill Country, 2015 Singing Wind Drive, Kerrville, TX 78028.



Obituary Provided By:



www.grimesfuneralchapels.com
info@grimesfuneralchapels.com
830-257-4544