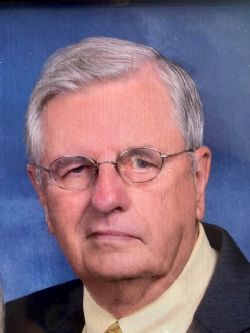 Reed West
2/15/1939 - 9/11/2023
In the early morning hours of Monday, September 11, God sent Reed West's guardian angels to bring him home. After months of fighting several cancers and with superb care from Peterson Hospice Care nurses and doctors, it was time to bring him home. He had "fought the good fight," but it was clear to his family it was time to release him into the arms of God.

William Reed West was a life-long Christian who trusted God's path for his family and himself. He also was grateful for the life he'd been given and tried to make the most of every day.

He was born in McKinney, Texas, to William West and Leah Reed West on February 15, 1939. He also had a brother, Tim West, to whom he was very close. Reed grew up in McKinney, Texas, and then went to S.M.U. in Dallas where he majored in Business. His specialty was accounting, and he later earned his C.P.A. He met and married Francha Davenport at S.M.U. He worked for Price Waterhouse for several years and then decided to become a stock broker.

Francha and Reed had two children, Rosalee and William Ripley, whom they raised in Dallas. As the children grew up, the Wests longed to live in the country and bought their dream home in Kerr County. There, Reed found his real calling selling medical insurance, including Medicare supplements and drug plans where he was a Top Producer in 2009. His business grew to over 400 clients, most of whom became close friends. He loved his work and hated having to give it up when his health required him to.

Reed was preceded in death by his son, Rip. He is survived by his loving wife, Francha; his daughter, Rosalee and her husband, George; his grandsons, Quinn and Luke; his daughter-in-law, Brandi; and his brother, Tim.
A private service will be held at a later date.

Memorials may be given to: Peterson Health Foundation.




Obituary Provided By:



www.grimesfuneralchapels.com
info@grimesfuneralchapels.com
830-257-4544