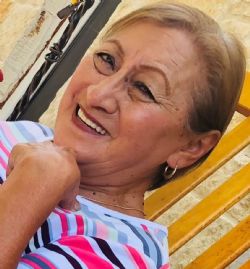 Maria H. Arevalo
2/9/1947 - 9/14/2023
Maria H. Arevalo, of Kerrville, Texas, went home to be with Jesus on Thursday, September 14, 2023. She was born in San Benito, Texas to Manuel Hinojosa and Maria Luisa Segovia Hinojosa on February 9, 1947.

She married Guadalupe Arevalo Sr. on January 14, 1967, in Hereford, Texas.

Maria retired from the Kerrville State Hospital after 23 years of service.

Maria was a beloved wife, mother and grandmother. She was a faithful woman who loved the Lord, her family, church, and community.

She will be greatly missed and will remain in our hearts forever.

She was preceded in death by her parents, Manuel and Maria Hinojosa and her brother, Juan Hinojosa.

She is survived by two sisters, Benita Galvan of Hereford, TX and Rosa Salinas of Muleshoe, TX; husband, Guadalupe Arevalo Sr. of Kerrville, TX; sons, Guadalupe Arevalo Jr. and Agustin Arevalo; daughters, Gloria Arevalo-Gonzales and Angelina Wooldridge (Charles Wooldridge); five grandchildren, JR, Gabriella, Isabella, Steven and Jake; and six great-grandchildren, Johanan, Kian, Anaya, Zlatan, Sophia and Lorenzo.

Visitation will be from 5-7 PM, Friday, September 15, 2023, at Grimes Funeral Chapels.

Funeral services will be held at 2 PM, Saturday, September 16, 2023, at Grimes Funeral Chapels with Apostle Eric Ferguson and Bishop Jeanette Bishop. Burial will follow at Mountain View Cemetery.

Pallbearers will be Jake Jimenez, Lupe Arevalo Jr., Charles Wooldridge, Martin Galvan, Florentino Galvan and Tyler Johnson.

The family wishes to extend our sincere thanks to Peterson Hospice and to all that provided support during this difficult time.


Obituary Provided By:



www.grimesfuneralchapels.com
info@grimesfuneralchapels.com
830-257-4544