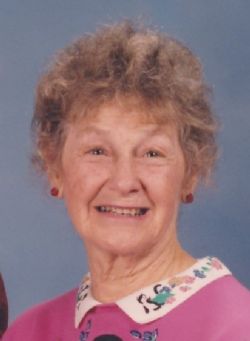 Geaneta Mae Klein
4/22/1922 - 9/13/2023
Geaneta Mae Klein, 101, of Mountain Home, passed into the loving arms of her heavenly Father on September 13, 2023, in Comfort, Texas, surrounded by love.

Geaneta was born in St. John's, Michigan on April 22, 1922 to Flossie Mae Sheldon Graham and Orla Graham.

She married William Fred Klein on August 13, 1970 in San Antonio, Texas.

She worked for many years helping on the ranch at the Klein Homestead. She was a member of Grace Bible Chapel, Cowboy Camp Meeting and Womens A-Glow.

Geaneta was a devoted Christian and helped with many Christian charity activities including feeding the truckers on the interstate at Thanksgiving and providing Christmas presents to the less fortunate.

She was preceded in death by her mother, Flossie Mae Graham and her father, Orla Graham. She was also preceded in death by her husband, Billy Fred Klein, whom she affectionately called Cowboy, on July 12, 2019; three step-children, Betty Marie Long, Fred Barney Klein and Orien Lee Klein; and one grandson, Kurt Saxton. Her son, Everett Ramsey, passed away 12 days after Mrs. Klein on September 25, 2023.

She is survived by a son, Rick Meredith of Tennessee; daughter, Janet Saxton of Michigan; step-daughter, Zelpha Dreiss of Mountain Home; 3 grandchildren; 10 step-grandchildren; and numerous great-grandchildren and many special friends.

A double funeral will be held for Mrs. Klein and her son, Everett Ramsey. The service will be held at 4 PM, Wednesday, October 18, 2023 at Divide Chapel at Mountain Home, officiated by Pastor Jim Boyd.

Graveside will follow the service on the Klein Ranch and fellowship will follow at the Divide Chapel with a meal. All are invited.

Memorials may be made to Cowboy Camp Meeting, Divide Volunteer Fire Department, or the charity of your choice.


Obituary Provided By:



www.grimesfuneralchapels.com
info@grimesfuneralchapels.com
830-257-4544