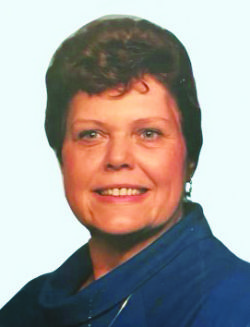 Louella "Lou" Koch
7/12/1935 - 9/13/2023
Louella Hough Koch was born July 12, 1935, in Coleman County, Texas. She was the 10th child born to Leonard Brantly Hough and Elsie Densmore George Hough. The family moved to Kerrville when she was 3 years old, and she was raised in the country in and around Kerrville.

Lou graduated from Tivy High School in 1953 and attended business college in Abilene, TX. When she came home, she worked at City Hall for four years and then at First National Bank, where she retired in 1996 as a Vice President.

She married Henry Koch in 1958. Together, they had two children, Robert Karl and Lori Laine. Her greatest accomplishment in life was her children, whom she loved with all her heart.

Preceding her in death were her husband, Henry; her parents; five sisters; and three brothers.

Survived by her son, Robert "Rob" Koch and wife Charlotte; daughter, Lori Broussard and husband John Ott; grandchildren, Joshua and wife Brittany Koch, Stanley and wife Heather Haines, Blaine Koch, Ebi Koch, Krystin Broussard with Keegan Benevides, Kelsey and husband Ben Taylor, Colby Broussard with Alayna Powers; great-grandchildren, Brooke Palmer, Trent Taylor, Rhett Taylor; sister, Hattie Samuelson of Texas City, TX; and sisters-in-law, Margaret Koch of Kerrville, Betty Burke and husband Kenneth of Wichita Falls; and many beloved nieces and nephews.

She was a beloved friend to everyone she met.

Celebration of life will be at Vicksburg Village Clubhouse at 1 p.m. Saturday, Oct. 7, 2023. Burial of ashes (family only) will be at Garden of Memories at 4 p.m. Oct. 7.

In lieu of flowers, donations may be sent to Hill Country Youth Ranch, P.O. Box 67, Ingram, TX 78025.




Obituary Provided By:



www.grimesfuneralchapels.com
info@grimesfuneralchapels.com
830-257-4544