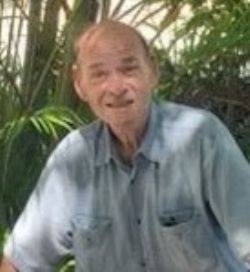 John G. Stevens


10/25/1945 - 9/14/2023
A graveside service will be held on Wednesday, October 25th at 4pm at the Center Point Cemetery for John Grant Stevens. Born in Dallas, Texas on October 25, 1945, and passed away at home in Center Point, Texas on September 14, 2023, surrounded by his partner and sweetheart of 13 years, Deborah Wellborn.

John has gone home to be with his parents, William and Jacqueline Stevens and sister, Diane Stevens.

John is survived by his brothers, Tim Stevens of Kerrville and Michael Stevens and wife Lisa; his nephew, Michael Jr. and wife Kim; great-nephew and niece, Anthony and Brittany, of Arkansas; his daughter, Marsha Quarles and husband David; his grandchildren, Apryl Bogue and husband Joey, and David B. Quarles; as well as four great-grandchildren, Little Joey and Adeline Bogue, Andreanna and Brycen Quarles of Salem, Oregon.

John served in the U.S. Navy from 1963 until 1969, where he learned electrical repair, an occupation on which he spent most of his life. After release from the Navy, he attended the University of San Diego, where he graduated in 1975 with a degree in urban development. Later in life, he attended Schreiner University Nursing School and obtained his Licensed Vocational Nursing degree and earned his Registered Nursing Degree from San Antonio College. He worked with patients in recovery from drugs and alcohol and then with psychiatric patients at Kerrville State Hospital where he retired in 2013.

John loved camping, football, watching the stars and playing poker with friends at the Boom Boom Room and at the Legion. He loved his family very deeply and enjoyed visiting in person and over the phone.

John, we all miss you every day and know that you are with us in Spirit…

"And the old life we lived so fondly together is untouched, unchanged.
Whatever we were to each other, that we are still "
"Life means all that it ever meant. It is the same as it ever was."
"One brief moment and all will be as it was before. How we shall laugh at the trouble of
parting when we meet again!"
excerpts from Death is Nothing at All by Henry Scott-Holland

Many thanks to Peterson Hospice, Dr. Bridget Robledo, Grimes Funeral Chapels, and the Rev. John Onstott.


Obituary Provided By:



www.grimesfuneralchapels.com
info@grimesfuneralchapels.com
830-257-4544