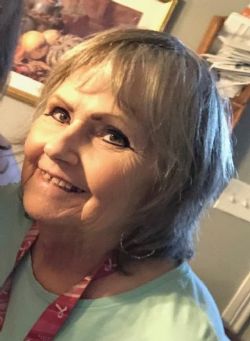 Linda Kay White
12/19/1947 - 9/15/2023
Linda K. White, 75, of Devine, Texas passed away Friday, September 15, 2023 at Lytle Nursing Home. Linda was born on December 19, 1947 in Kerrville, Texas to the parents, JW White and Margaret Louise White.

Linda started school in Kerrville, Texas until the family moved to San Antonio where she graduated from Robert E. Lee High School.

Linda had many jobs throughout her life. The one she was most proud of was her time in the Air Force. She was a Vietnam era veteran and was proud of her service.

She married Jerry Civiletto in 1968 and had her first child, Tamra K. Schroeder. Years later, she married Charles Atkinson in 1974 and had her second daughter, Erica Lynn Schroeder.

Linda has six grandchildren, Ashley, Nicole Schroeder, Kasey Kaye Frazier, Stephanie Lynn Schroeder, Steven Hyrum Civiletto, Sarah Lizabeth Schroeder, Sean-Eric John-Ernest J.W.Schroeder. She has four great-grandchildren, John Schroeder, Braxton, Frazier and Maggie Schroeder, McKenna Frazier. She is also survived by her two brothers, Jake White of San Antonio, Texas and Rick White of Blanco, Texas.

Services will be held 11 AM Friday, September 23, 2023 at Sunset Cemetery in Mountain Home, Texas and church service for Linda will be Saturday, September 24 at 11 AM at Devine Lutheran Church in Devine, Texas.




Obituary Provided By:



www.grimesfuneralchapels.com
info@grimesfuneralchapels.com
830-257-4544