The Grimes Story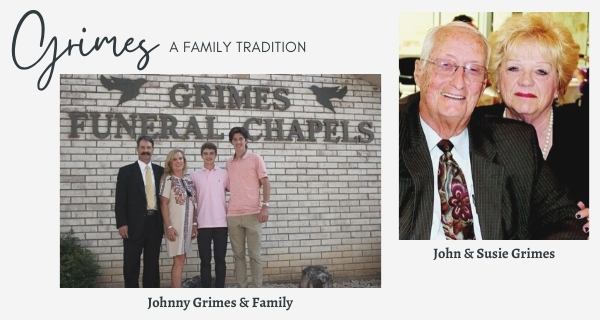 The Grimes Story
The Grimes Funeral Chapels' tradition of caring service started in 1930, when Smith Funeral Home was established. The building was designed and built especially for a funeral home and was located on the corner of Jefferson and Earl Garrett Streets, across the street and east of the Court House Square.
W. A. Plummer and wife purchased the funeral home from the Smith family and in 1977 John and Susie Grimes became the owners of Plummer Funeral Home and changed the funeral home name to the present Grimes Funeral Chapels.
With over 86 years of service, Grimes Funeral Chapels will provide care and concern in your time of need.
Our Benefits
Our Exceptional Staff
With the help of an exceptional staff, we continue in the tradition of our founders to provide each service with all our respect. Let us serve you. Get to know our team.
Our Locations
We offer two convenient locations to serve you; Kerrville & Bandera. View contact information and get directions on our Contact Us page.
Need Help Now?
Grimes Funeral Chapels believes a family deserves real quality and value in a funeral service. Grimes Funeral Chapels is dedicated to providing the best service to every family we serve.Get more details on our services.
Testimonials
"My dad just past away and Amanda Grimes was the most amazing person. She truly makes it a comfortable decision and is right with you every step of the way. She goes above and beyond to take care of the loved one you just lost. Words don't do the justice. 🦋💖"

"This funeral home is the best! I was not able to get my mother's ashes right away since I did not live in Kerrville. A gentleman who works at the funeral home was coming to where I live to visit family and brought my mom's ashes to my front door. I really appreciated that so much! I thought that was so thoughtful and excellent customer service!! Thanks again Grimes Funeral Home!!"

"The Grimes family are the REAL DEAL. I've seen their tears and love for the folks."