When a Death Occurs, Turn to Us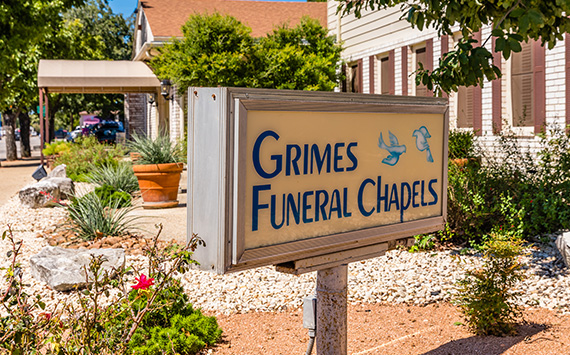 Not Sure Where to Begin?
After the death of your loved one, call Grimes Funeral Chapels, anytime day or night at 830-257-4544. Our directors will listen and assist you in planning a loving tribute that captures the spirit of the person whose life you wish to honor.
The following information may or may not be relevant to your own circumstances. We are providing this in an attempt to aid you in the settling of your affairs.
Immediate Need
What To Expect on Your First Visit

First Visit Checklist

Documents Needed to Conduct Business

Who May Need a Death Certificate?

Download FREE Helpful Task Checklist
What To Expect on Your First Visit
Download Your First Visit Information Sheet for reference.
When you visit the funeral home, the funeral director will guide you through the entire arrangement process, and assist you in creating a memorable celebration of your loved one's life. The arrangement process will include preparing and filing the death certificate and other government documents; scheduling the location, date and time of services or other events; selecting a casket, urn or other items; preparing an obituary; and coordinating services with other providers, including the cemetery. Necessary authorizations will need to be signed by the appropriate next of kin.
Feel free to bring any photos, music or memorabilia so that you and your director can discuss how you would like your loved one to be remembered. More and more people today choose to personalize the funeral services. A favorite song or gathering place, even a favorite activity can all become part of the service.
Our directors will listen and assist you in planning a loving tribute that captures the spirit of the person whose life you wish to honor.
Information to bring to assist us with the death certificate and the obituary.

The following list will help you remember what information and items you should consider bringing when first meeting with a funeral director.

Full legal name (including the maiden name)
Home address
Social Security number
Date and Place of birth
Father's name and Mother's name (including her maiden name)
Occupation (during working lifetime)
Highest education completed
Cemetery information (if applicable)

What to bring to assist with planning the funeral service.

Veteran's discharge papers (DD-214) or other proof of military service
Insurance Policies if you are planning to assign proceeds to cover the balance or so we can help you file on your behalf
Appropriate clothing, including undergarments, glasses and/or jewelry items
Clergy name and phone number
Appropriate photograph, with list of survivors
Names of Pallbearers or Honorary Pallbearers (if desired)
First Visit Checklist
Caskets are not required for cremation unless one is desired by the family or there is to be a public viewing before the cremation. All that is required by OSHA is the OSHA approved minimum cardboard container and pouch which are cremated with the body. Other OSHA approved cremation containers are available for purchase as well. The basic containment materials are provided by our funeral home and are included in our direct cremation package.
We do not require embalming unless there is to be a public viewing with an open casket or in rare cases where the body is to be shipped long distances (usually internationally), before cremation. We invite immediate family members to privately view the deceased prior to cremation at no charge.
Checklist
Obtain an adequate number of certified copies of the death certificate for legal purposes.

You also my re-order certified copies by calling the funeral home. Who Needs a Death Certificate?

Notify your bank.

Change all accounts into your name only or joint accounts with surviving children or relatives.

Notify deceased's employer and employer's personnel or insurance department.

Check on group insurance benefits, survivor's benefits, profit sharing, and/or pension monies, which you may be entitled to.

Check on monies in credit unions.

Some supply life insurance.

Inquire about health insurance coverage for you and your children if carried by the deceased.

Check on accident insurance.

If death was accidental, you may be entitled to benefits on the unused premium.

Check on automobile insurance.

See above.

If the deceased was a member of a labor union, notify the union and inquire about any benefits survivors are entitled to.

Check with fraternal organizations that the deceased was a member of; they may provide benefits.

Apply at a local Social Security office for any benefits you and your minor children are entitled to.

Social Security Benefits


Collect any debts owed to deceased by other persons.

Review of your present financial situation.

If you have no income or monies due you presently, seek emergency aid from the Department of Social Services.

Keep an up-to-date accounting of all cash income and expenses.

Get hospital and medical statements as soon as possible.

Pay all bills and taxes owed as soon as possible

(funeral, income tax, real estate, home mortgage, hospital and other bills incurred). But first, check on credit life insurance that may have been carried on all debts (house, car, appliances, ect.). Close accounts covered by this insurance.

For any legal questions concerning the deceased, we suggest you contact your attorney.

He will discuss with you probating of the will, inheritance, estate taxes, etc.

Draw up or update your own will.

Change beneficiary on your inheritance.

Transfer real estate title of jointly-held property

in the Register of Deeds office in the county where real estate is located.

Change stocks and bonds into your name only or jointly with surviving children or relatives.

Transfer automobile title into your name at Secretary of State's office, or if estate is probated, through Probate Court.
A death is not the extinguishing of a light, but the putting out of the lamp because the dawn has come.

Tagore
Documents You Will Need to Conduct Business
It is advisable to call parties concerned before visiting their offices to check on which documents they will need. If documents are given to them, get a receipt (insurance polices, etc.).
DEATH CERTIFICATE- WILLS
SOCIAL SECURITY NUMBERS YOURS AND THE DECEASED
MARRIAGE CERTIFICATE- BIRTH CERTIFICATE OF EACH CHILD
ARMED SERVICE DISCHARGE PAPERS- VETERAN'S ADMINISTRATION CLAIM NUMBER
INSURANCE POLICIES -DEEDS AND TITLES TO PROPERTY
STOCK CERTIFICATES -BANK BONDS
AUTOMOBILE REGISTRATION
LOAN AND INSTALLMENT PAYMENT BOOKS AND CONTRACTS
RECENT INCOME TAX FORMS AND W-2 FORMS
Who May Need a Death Certificate?
Download Who May Need a Death Certificate for reference.
This list below indicates who may need a certified copy of the death certificate.
__ Each Life Insurance Claim being processed
__ Real Estate Transactions
__ Vehicle Title Transfers
__ Boat Title Transfers
__ Each Stock/Bond or Each Stock/Bond Portfolio
__ Oil Leases
__ Bank Accounts (Including savings, checking, CDs IRAs)
__ Probating a Will
__ Purchases with Credit Life Insurance Attached
__ Some Credit Cards Companies
__ Prearranged Funeral or Cemetery Insurance/Trust
__ Government or Employer Claims/Pensions
__ Other ______________________________________________
_____ Total Certified Death Certificates Your Family Might Need
Our Family's Commitment to Your Family
Continues After the Services
It is your family, your feelings, and your money. Grimes Funeral Chapels believes a family deserves real quality and value in a funeral service. Grimes Funeral Chapels is dedicated to providing the best service to every family we serve.