Why Choose Grimes for Cremation?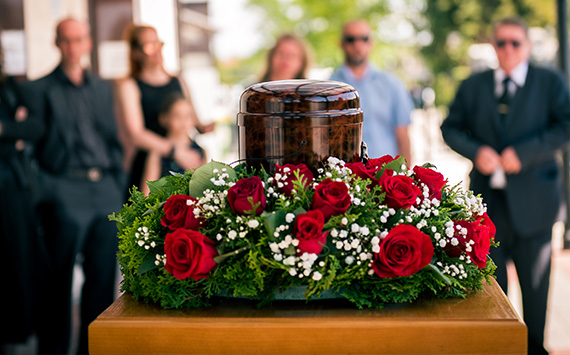 Not Sure Where to Begin?
For most people, tradition plays an important part in life. In good times of celebration, traditions enrich our lives and strengthen our family relationships. In trying times, such as the death of a loved one, traditions such as funerals offer familiar experiences which help us to cope with the loss of someone significant in our lives. With cremation services, this is no different. That's why our list of services includes many options.
We at Grimes believe you should be able to choose the type of cremation service that you find most meaningful.
Contrary to what most people believe, cremation does not limit one's choices, nor does the choice of cremation necessarily eliminate a funeral service. A funeral service followed by cremation need be no different than a funeral service followed by ground burial.
Cremation Services
Cremation Arrangements

Choosing a Cremation Provider

Cremation - Answering Your Questions

I Just Want to Be Cremated

Download Our FREE Memorial Planning Guide
Cremation Arrangements
Cremation offers families a variety of options. From elaborate and traditional to dignified and simple, cremation is an option which allows for great flexibility in, style of service, time of service, price and preference for final resting place. Grimes offers a variety of service options and packages for cremation, including a full traditional service followed by cremation, a memorial service after cremation, and immediate cremation (without service).
Our helpful staff can assist you in selecting the service that is appropriate for your family and fits into your budget. No matter which type of service is selected, we can help you give your loved one a special, dignified, and personalized farewell.
Traditional Service with Cremation
The traditional service option is offered for religious ceremonies, celebration of life events, or anything in between. Usually a traditional service will include a viewing or visitation and ceremony at the funeral home, local church, or other venue followed by cremation. A graveside or committal service may then be held after the cremation. We also offer our families a Video Memorial set to music. A traditional service may be elaborate or simple. Usually flowers, pictures, and memorabilia are displayed. A register book, thank you cards and memorial folders are also available. All of our services can be customized to meet any family's needs or wishes. Increasingly, we find individuals want to create a memorial that reflects a more personalized and meaningful tribute. Our staff is always available to help you plan and design a memorial that fully reflects your wishes.
Memorial Service
A memorial service is one where the physical body is not present. Cremation may have already taken place and your loved one will be in an urn. This allows time for loved ones to gather if they live far away. A memorial service may take place weeks after the death, but it is best to do it as soon as possible to allow mourners to process their grief. A memorial service is similar to a funeral service. Photos, mementos, and other memorabilia may be brought in to personalize the memorial service. Register books, memorial folders, thank you cards, and a Video Memorial are present. A graveside service following the memorial service may also be arranged. Of course, it's true that there are many choices. And while that may seem a little daunting and disorienting, it is ultimately a comfort: today's memorial services are highly customizable based on an individual's preferences, beliefs, and needs. Whatever kind of service you wish to have, it can all be arranged through the help of one of our skilled funeral directors.
Direct Cremation
Direct cremation is our most basic option. The body is cremated shortly after death when necessary documents are received. The cremated remains are placed in an urn or other container. The remains can be kept in the home, buried or placed in a crypt or niche in a cemetery, or buried or scattered in a favorite spot. Direct cremation usually costs less than the "traditional," full-service funeral. We can offer our advice as to options available during the arrangement conference.
Choosing a Cremation Provider
It is recommended that when you are arranging for a cremation, it be done prior to immediate need. This gives you the benefit of making arrangements without the pressure of time. The first thing you need to do is put your wishes in writing. In many states, you cannot authorize your own cremation and therefore the next of kin(s) must be in agreement if a cremation is to take place; however Texas does allow a person to preplan their own cremation according to Texas Health and Safety Code 711.002.
If your wishes are not done prior to death, Texas Health and Safety Code 711.002 states the following as right to control the disposition of a decedent's remains in this order: (1) the person designated in a legal written instrument signed bythe decedent; (2) the decedent's surviving spouse; (3) any one of the decedent's surviving adult children; (4) either one of the decedent's surviving parents: (5) any one of the decedent's surviving adult siblings; or (6) any adult person in the next degree of kinship in the order named by law to inherit the estate ofthe decedent. However, it is the policy of our company that all proper signatures be retained from the appropriate next of kin.
When selecting cremation as a form of disposition, make sure you select a reputable firm:
Ask your friends and others in your community what they know about the firm.

Seek advice from your clergy regarding your choice.

DO NOT choose a firm based solely on price.

Determine the

type of services

you would like. The type of service you request will be the determining factor in what the cost will be, such as:

Cremation with visitation and embalming

Memorial service with or without the cremated remains present

Traditional church service

Direct cremation with no service, viewing or visitation
Code of Cremation Ethics
We believe in the dignity and respect in the care of the deceased, in compassion for the living who survive them, and in the memorialization of life; that a cremation authority should be responsible for creating and maintaining an atmosphere of respect at all times; that the greatest care should be taken in the appointment of crematory staff members, any of whom must not,by conduct or demeanor, bring the crematory or cremation into disrepute; that cremation should be considered as preparation for memorialization; and that the deceased of our society should be memorialized through a commemorative means suitable to the survivors.
Cremation - Answering Your Questions
I Just Want to Be Cremated
As more and more people plan ahead, we hear from many individuals that they don't want a big "fuss" when they are gone; they "just want to be cremated."
Cremation is a versatile option because it provides ample time for the family to gather, it allows for easy transportation of the remains, and it makes for a simple and easy means of disposition.
However, the notion that there shouldn't be any "fuss" is simply a misunderstanding of the reason we have funeral and memorial services in the first place. We want to-indeed, we need to-make a "fuss" when we lose someone we love. We need to take time to remember and mourn our loss, otherwise, we never experience any type of closure. The purpose of the funeral or memorial is to help us face the pain of our loss, acknowledge the reality of the death, receive the support of our loved ones, and remember and honor a life that we have cherished. As we plan ahead, we need to consider the needs of our family as well as our own preferences and desires.
With that said, here are a few considerations when it comes to choosing cremation:
Cremation may be carried out before the memorial service or afterward.
The body may be dressed and present in a ceremonial rental casket to allow friends and family to say their final goodbyes. This can be especially significant if the death was sudden and unexpected. Sometimes we have to see with our own eyes to really begin to get over the shock of a death.
The service may be a simple, informal gathering of close family or a public honoring of the deceased.
If the memorial service is held after the cremation takes place, it is important to have the urn present. The urn is not merely a container for the cremated body; it is a memorial of the deceased.
An alternative container is required for the actual cremation. Containers must be suitably rigid to hold the body and, of course, must be made of combustible material. The family may choose between a number of options for alternative containers available at the funeral home, or they may provide their own.
There are many options for memorialization after the cremated body is returned to the family. The remains could be buried in a cemetery lot or cremation garden, placed in a columbarium, kept at home, scattered, used in cremation jewelry, or portioned off for different uses.
When cremation takes place, it is important to remember the significance of permanent memorialization. Generations from now, family members will want to be able to visit a permanent memorial, so a gravestone, grave marker, or plaque should be considered.
With cremation, there are even more options available to families than there are with traditional in-ground burial. The key is to plan ahead and put all wishes in writing so that when a death occurs, the family doesn't have to worry about which options to choose.
Our Family's Commitment to Your Family
Continues After the Services
It is your family, your feelings, and your money. Grimes Funeral Chapels believes a family deserves real quality and value in a funeral service. Grimes Funeral Chapels is dedicated to providing the best service to every family we serve.