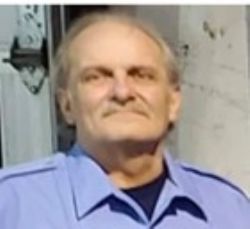 Visitation
Grimes Funeral Chapels
728 Jefferson St.
Kerrville, TX 78028
Friday, September 10, 2021
5:00 pm
Map & Directions


Send Flowers
Funeral Service
Ingram Fire Department
215 Hwy 39 W
Ingram, TX 78025
Saturday, September 11, 2021
2:00 PM
Map & Directions


Send Flowers
Nichols Cemetery
Nichols Cemetery Rd.
Ingram, TX 78025
Map & Directions


Send Flowers
Danny Wayne Ryan
of Ingram, TX
December 13, 1961 - September 1, 2021
---
Danny Ryan 59, of Ingram passed away Wednesday, September 1, 2021 in San Antonio. He was born in Gadsden, Alabama to Carol Atterbury on December 13,1961 and was married to Marilyn Ryan for 11 years, together for 27 years.

Danny was preceded in death by his step-father, Robert (Bob) Atterbury.

Danny is survived by his mother Carol Atterbury (Ingram); wife Marilyn Ryan (Ingram); sibilings Joey Atterbury and Theresa Ryan; children, Christine Ryan (Philadelphia), Dana Ryan (Philadelphia), Joseph Ryan (Corpus Christi), Julian Ryan (Ingram), Jesse Rounsley (Kerrville), Joseph Rounsley (Kerrville), and Connie Salas (Ingram); 9 grand children that Danny adored and love having around. His two beloved fur babies Max and Sissy.

Visitation will be Friday, September 10th from 5:00 pm to 7:00 pm at Grimes Funeral Chapels. Memorial Services will by held on Saturday, September 11th at 2:00 pm at the Ingram Fire Station. Interment will follow at Nichols Cemetery.

Funeral arrangements are entrusted to Grimes Funeral Chapels of Kerrville.


2 Condolence(s)

Lois G Kirby
Kerrville, TX
Wednesday, September 8, 2021
He was an amazing wonderful brother in law. I will forever be great ful to have had him as family. He has a special place in my heart. Thank you for everything you've had done for me. M

Teresa Ryan
Glencoe, AL
Monday, September 6, 2021
Sending my love and support.
I will miss him very much.