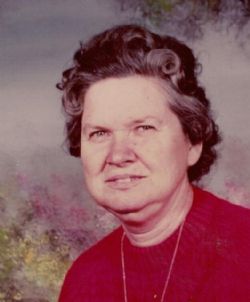 Visitation
Grimes Funeral Chapels
1214 Mulberry St.
Bandera, TX 78003
Monday, September 13, 2021
5-7 PM
Map & Directions


Send Flowers
Funeral
Grimes Funeral Chapels
1214 Mulberry St.
Bandera, TX 78003
Tuesday, September 14, 2021
10 AM
Map & Directions


Send Flowers
Oak Rest Cemetery
337 Orchard Park Blvd
Medina, TX 78055
Map & Directions


Send Flowers
Naomi Elizabeth Mudd
of Medina, TX
March 4, 1932 - September 4, 2021
---
Naomi Elizabeth Mudd, age 88, of Medina, Texas, went to see her Lord on September 4, 2021.

Naomi was born on March 4, 1932, in San Marcos, Texas, to Charles and Irene Smith of Medina.

On December 11, 1954, Naomi married Stanley (Dan) Irvin Mudd. The couple resided in San Antonio until her husband, Stanley (Dan) Irvin Mudd, passed away in 1963. Naomi was a stay-at-home mom for her 2 children and sometimes babysat with other children.

Naomi was preceded in death by her husband, Stanley (Dan) Irvin Mudd in 1963, her oldest son Milton Charles Mudd in 2014 and a sister, Violet Marie Norwood in 2021.

Naomi is survived by a son, Larry Wayne Mudd, wife Timi of Gidgegannup, Western Australia and a grandson, Jason Justin Mudd. Naomi is also survived by a sister, Hazel Leta Giles of Lawson, Missouri.

Visitation will be held at Grimes Funeral Chapel in Bandera on Monday, September 13, 2021, from 5-7 pm. Funeral service will be held at Grimes Funeral Chapel in Bandera on Tuesday, September 14, 2021, at 10:00 am with the Rev. David Kimberly officiating.

For those desiring, memorial contributions are suggested to the Alzheimer's Association.

The family invites you to send condolences at www.grimesfuneralchapels.com.

Funeral arrangements are entrusted to Grimes Funeral Chapels of Bandera.


2 Condolence(s)

Debbie Moffett Pipes
Kerrville, TX
Saturday, September 11, 2021
Dear Larry,
I am so sorry to hear about your mom.
She was a special person.
Thinking about you.
Take care and our condolences.
Debbie Moffett Pipes

Vicki R. Meinhardt
Omaha, NE
Friday, September 10, 2021
Mrs. Mudd was always so nice and she just beamed when she looked at her boys. She always supported what they wanted to do. She was a strong woman too, raising two children by herself. She will be missed.