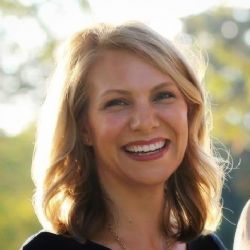 Funeral Service
Grimes Funeral Chapels
728 Jefferson St.
Kerrville, TX 78028
Sunday, September 12, 2021
3:00 pm
Map & Directions


Send Flowers
Kristina Anderson
of Kerrville, TX
February 15, 1980 - September 7, 2021
---
Kristina Merkouris Anderson, 41, passed away on September 7, 2021 in Kerrville, Texas. She was born in Springfield, Massachusetts to Timothy and Renee Merkouris on February 15, 1980. She married her husband, Samuel Anderson, on September 19, 2009 in Cambridge, Minnesota.

Kristina grew up in Alabama, Oklahoma, and Minnesota, where she graduated from Cambridge-Isanti High School. She studied fine arts at the University of Sioux Falls and graduated with a Bachelor of Arts Degree. Kristina and Samuel moved from Minnesota to Boerne, Texas with their children in 2014, and they spent seven happy years in Boerne and Kerrville, raising their children in the Texas Hill Country.

Kristina was loving, artistic, wise, loyal, passionate, and had a wonderful sense of humor. She was a supportive and loving wife and she loved her children deeply and well. Kristina loved to paint with acrylics, visit the beach, homeschool her children, and spend time with friends and family. She loved her Lord Jesus with all her heart and is now in His loving arms.

Kristina is survived by her husband, Samuel; her children, Isabelle, Reuben, Jonas, and Elijah; her brothers, Andrew (Brittany) Merkouris, Nino and Bart Merkouris; her sisters, Rachel (Justin) Johnson, Charydyn (Joseph) Hamilton, Jeneviev, RizaMae, Leheca, Christine, Charryto, June, GeAn, and Jashly Merkouris; and by her parents, Timothy and Renee Merkouris.

A funeral service will be held at 3:00 PM on Sunday, September 12 at Grimes Funeral Chapels in Kerrville, Texas.

Condolences may be sent at www.grimesfuneralchapels.com.


6 Condolence(s)

Jackie Shand Keocher
Lampasas, TX
Wednesday, September 15, 2021
My deepest sympathy and love goes out to Samuel and their children, Tim and Renee Merkouris, all of Kristina's sisters and brothers and the rest of the extended family 💞💞💞 I have known Kristina and her family since she was a little girl. She was very sweet and loving. I can't even imagine the heartbreak you all are going through. My prayers are with you all! Love and hugs to all of you! ❤❤❤

Terry D'Souza
Mason, OH
Monday, September 13, 2021
My heartfelt sympathies to Samuel and children as well as to my dear friear friend and her Dad Tim and Mom Renee and family.


Mike & Sharon McCoy
Kerrville, TX
Saturday, September 11, 2021
So devastated by this news; we enjoyed the visit of your beautiful family to our home because our houses have the same floor plan, and Kristina was looking for decorating ideas. We will miss seeing her watering her yard while the children played nearby. Holding your family in our prayers.

The McCoys, your neighbors just down the hill.

Julie Hamilton
Kerrville, TX
Saturday, September 11, 2021
Kristina and her family helped me realize that God actually did have a reason for me to be living in the house I'm in. We are next door neighbors and spent many hours sharing the Lord, our life with each other over the fence or in each other's homes. We moved into our homes on the same day in 2016 and both wondered if this was where God wanted us. I believe with all my heart and soul that Kristina and her family are one of the biggest blessings in my life. My life is forever changed because of her life and also her passing. She has left behind a precious family that have a strong faith in God and I believe that God can turn ashes to beauty. We who knew and love her will see her again and what a glorious reunion that will be.

Laura Vigil
Comfort, TX
Saturday, September 11, 2021
Kristina was my best friend up here, and was such a bright light in my life and in so many others. I am so heartbroken, and wish I had just one more chance to tell her how loved and special she was to me. Prayers are going out to Sam, Isabelle, Reuben, Jonas, and Elijah. We love you so much, and we are here for you.

Courteney Miller
Kerrville, TX
Friday, September 10, 2021
Kristina was like sunshine everytime I saw her big beautiful smile.
My heart aches for the Anderson Family. I pray for the peace only God can give love, and comfort in the coming days and always. She was a good friend, loving momma, and her infectious light will be missed dearly.