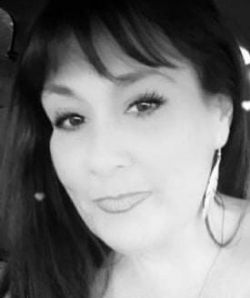 Visitation
Grimes Funeral Chapels-Kerrville
728 Jefferson St.
Kerrville, TX 78028
Tuesday, September 14, 2021
5:00 - 7:00 PM
Map & Directions


Send Flowers
Funeral Service
Grimes Funeral Chapels
728 Jefferson St.
Kerrville, TX 78028
Wednesday, September 15, 2021
10:00 AM
Map & Directions


Send Flowers
Center Point Cemetery
Center Point, TX


Send Flowers
Angelina Darlene McCracken
of Kerrville, TX
December 4, 1975 - September 2, 2021
---
Angelina (Angie) Darlene McCracken, 45, of Kerrville, passed away on September 2 2021.

Angie was born in Kerrville, Texas to JD Scott and Bobby McCracken on December 4, 1975.

Angie was preceded in death by her son, Jacob Calderon.

Survivors include: daughter and son-in-law Aaron and DeAnna LeStourgeon and grandsons, Jackson and Sawyer LeStourgeon of North Carolina; Mom. JD Scott of Kerrville; Dad and Step-Mom: Bobby and Jamie McCracken of Brady, Texas; sister, Carrie Guerrero of Hondo, Texas; brother and sister-in-law, Conner and Maddie McCracken of Yoakum, Texas; nieces, Destiny, Jewel and Jasmine Guerrero and Slaid McCracken; nephew, Danny Ray Guerrero. Angie was also survived by many aunts, uncles and cousins.

Visitation will be held from 5-7 PM, Tuesday, September 14, 2021 at Grimes Funeral Chapels.

Funeral services will be held at 10 AM, Wednesday, September 15, 2021 at Grimes Funeral Chapels, officiated by Darrin Markham. Interment will follow in the Center Point Cemetery.

Pallbearers will be Dwayne Boerner, Danny Ray Guerrero, Conner McCracken, Danny Guerrero, Danny Hernandez and Christian Burgueno.

Honorary Pallbearers will be Jacob Calderon and Dalton Williams.

3 Condolence(s)

Shawna Archer
center point, TX
Wednesday, September 15, 2021
You will be missed friend. Still can't understand. Love u and u will never be forgotten.

Connie Guardiola
Kerrville,
Sunday, September 12, 2021
You will be dearly missed our crazy white chick

Rebecca Rendon
Kerrville, TX
Saturday, September 11, 2021
Angie I'm still in shock. I'm really gonna miss you so much. I love you my friend. Until we meet again. Rest in peace.