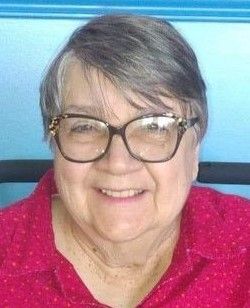 Center Point Cemetery
Center Point, TX


Send Flowers
Sandra Maureen Sessums
of Killeen, TX
September 23, 1941 - September 6, 2021
---
Sandra Maureen Mailliard Sessums was born to Margaret Jean Sayre and Roy Elwood Mailliard in Meadville, Pennsylvania on September 23rd, 1941. She peacefully passed on September 6th, 2021, from Covid 19.

She wed the love of her life, Grady Sessums on June 8, 1960. He passed on May 17th, 2017, giving them 56 wonderful years together.

She enjoyed her work as a banker for many years, until she and Grady created the RV storage lot. At this property they shared with family and helped to raise and create memories with their grandchildren. They eventually retired and chose to roam the country in their camper, exploring the U.S. and visiting friends and family. They retired in Texas, occasionally moving to be closer to family or friends.

Sandy was a larger-than-life personality. Her muttering of jokes under her breath, the knowing looks she could give, and the sharp wit she held was always a source of laughter. She always had a joke or comment to keep you on your toes. She was a giver, of love, of gifts, of laughter. She was crafty, both in arts and paint, but also in her mind.

She is survived by her two grandchildren: Steve Sessums Jr. (Randy) and his wife Megan Sessums, with great-granddaughters Kaylee and Rylee Sandra Sessums whose middle name is after her great grandmother which tickled Sandy, and Katy Sessums and great grandson Damien Sessums. Her grandchildren will miss her very much.

Sometimes we are not born into a family but find them throughout life. Melissa Vasquez and her husband Justin, along with children Hunter and Tucker Vasquez were that to Sandy. This particular family brought so much fulfillment and love to her last years. Sandy will be very missed in their household.

She left behind many friends and family, Randy Mailliard and his wife Elaine, who had shared not only wonderful years of memories with Sandra but also God with her in the last year. She will be missed by Mignonne Mailliard, Shannon Diggs, and close family friends Nancy and Dan North.

No services are scheduled as per her wishes, she will reach her final resting place next to Grady in Center Point Cemetery.

In lieu of flowers, the family requests that donations be made in her honor to Former Texas Ranger Foundation. Donations are accepted through The Texas Ranger Heritage Center, www.trhc.org, mailing address: PO Box 3195, Fredericksburg, TX 78624.

4 Condolence(s)

Bruce Goff
Fort Worth, TX
Tuesday, September 21, 2021
Thank you for the Gift of your Loving Kindness

Gina McCullough
Olathe, KS
Tuesday, September 14, 2021
Aunt Sandy was always a force to be reckoned with and I loved that about her. She was no nonsense and told you like it is. She had the best laugh. She cooked the best sausage gravy and biscuits and first place I ever had guacamole. The memories hold a special place in my heart for her. I would also like to express condolences to her grandchildren and extended family for your loss. You are in our prayers. Gina

Nancy Neel Ferriegel
Houston, TX
Tuesday, September 14, 2021
I am so sorry to hear this. I loved Aunt Sandy and Uncle Grady with all my heart, and miss them both. I remember good times and conversations about the Ranger days and even before that. I will always remember Aunt Sandy's laugh as it was contagious. I am so glad they got to meet my husband along at the same time Aunt Pat did before they all went to meet our Lord.

My heart goes out to Katy and Randy, I remember when you were kids running in the backyard at the storage with my son Jay and the Jack Russels. Prayers and hugs to you both

Your cousin,
Nancy

Melissa Vasquez
Killeen, TX
Monday, September 13, 2021
I love you sandy! You brought so much love and joy to our lives and I am happy to have spent the last five years with you and made sure u were happy and taken care of the way u should have been! We love you and miss you dearly!