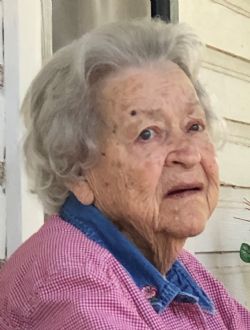 Graveside
Center Point Cemetery
Center Point, TX 78028
Saturday, September 18, 2021
10:00 AM


Send Flowers
Ruth Evelyn Beaver Hollimon
of Center Point, TX
October 29, 1934 - September 11, 2021
---
Granny, but sometimes known as Ruth Evelyn Beaver Hollimon, 86, of Center Point, traded in her earthly body for a crown on September 11th, 2021. She was born at her family home on the banks of the Guadalupe River on October 29th, 1934 to Leonard and Juanita Beaver. She was the fourth of eight children, first of two girls. Ruth attended Center Point and Kerrville schools. After finishing school she worked at the Grove Drive-In in Kerrville, where she met her fly boy, Air Force cadet Kenneth "Lefty" Hollimon whom she married on June 26, 1954, in Center Point, Texas.

Lefty and Ruth were the proud parents of Mary Evelyn, Kenneth Wade Jr., and Leonard Eugene who she devoted her life to, choosing to stay home and raise while supporting Lefty's business. Even her grandchildren attended Granny School, giving Mary a chance to have a career.

Her favorite hobbies included long drives in the country to "nowhere," sitting on the front porch and watching traffic go by, and teaching her nieces, nephews, grandkids, and great-grandkids how to play cards and dominoes so she always had someone new to beat. Ruth was known for being a bit competitive, it didn't matter how young her opponent, she would always beat you in a game.

She is reunited with many of her friends and family, and while the party planned down here will be nowhere near as fantastical as the one in heaven, on September 18th Ruth's family and friends will be celebrating her life with a party, including a Diet Dr. Pepper toast.

Graveside services will be held at 10:00 AM, Saturday, September 18, 2021 at Center Point Cemetery.

The family would like to thank her granddaughter-in-love. Marissa, and Alamo Hospice for the care they provided allowing her to remain home with family.

She is preceded in death by her mother and daddy, husband Lefty, brothers, Herbert and Clyde, sister and best friend Mary Nell.

Remaining family include daughter, Mary and husband Roy Neal, sons, Kenny and Lenny Hollimon, grandchildren, Kristi and husband Ben Richards, Ryan Neal and wife Marissa, Bryan Neal and wife Susan, Troy Neal and Beverly, Tristyn, William, and Courtney Frane, and fourteen great grandchildren.

In lieu of flowers donations gratefully accepted to Center Point Historical Society.

4 Condolence(s)

Jeanie Powell
El Paso, TX
Friday, September 17, 2021
Love to you all. She was such a sweet cousin. Even though we have not seen each other for along time, all Powell and Beaver families are in my prayers.

Brenda Sellers
Kerrville, TX
Thursday, September 16, 2021
Ruth was a loving, kind person, full of
life. She would help anyone who needed her. Her laughter was something to never be forgotten. She will live on in the memories she left behind.
My thoughts and prayers for her family.


TJ Beaver
Kerrville, TX
Wednesday, September 15, 2021
Hugs and prayers to family! Ruth earned her angel wings by all good deeds here on earth! RIP Ruth

Gayle & Jacque Beaver
Kerrville, TX
Tuesday, September 14, 2021
Big hugs @ love yu Sis... here's a big diet Dr Pepper toast ! Thank yu for looking out for me n Jac... as yu said "us black sheep" had to stick together !