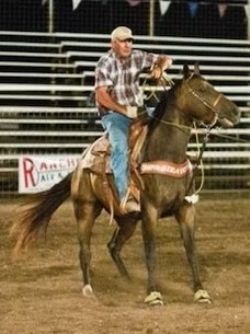 Visitation
Wild Ride Ministries
20842 US-290
Harper, TX 78631
Friday, October 8, 2021
1:00-2:00 PM
Map & Directions


Send Flowers
Funeral Service
Wild Ride Ministries
20842 US-290
Harper, TX 78631
Friday, October 8, 2021
2:00 PM
Map & Directions


Send Flowers
Harper City Cemetery
Harper, TX


Send Flowers
James "Jimmy" Edward Barker
of Harper, TX
February 15, 1964 - October 4, 2021
---
James Edward (Jimmy) Barker, age 57, passed away in Kerrville, TX on October 4, 2021. Jimmy was born in Fredericksburg, TX February 15, 1964 to A.B. and Juanita (Bierschwale) Barker.

He was a 1982 graduate of Harper High School and a lifelong member of the Harper Community. Jimmy married Philisha Green on June 9, 1990. He attended Tarleton State University, enjoyed roping with his boys, family and friends. He was a lifelong rancher. Jimmy loved kids. He was a favorite uncle to his many nieces and nephews as they knew the answer was always yes with Uncle Jimmy. He and Philisha have opened their home to many that needed a place to rest. He was a kind and giving soul and took care of many.

Jimmy is survived by his wife of 31 years Philisha of Harper; his sons, Reagan and wife Sydney of Uvalde, Riley of Harper; one grandson, Layne Barker of Uvalde; brother, Benny and wife Darla of Harper; sister, Nadene Blakeney and husband Norman; and two aunts, Geraldine Skipper and Linna Bierschwale, both of Harper. He is also survived by two sisters-in-law and their spouses, along with numerous nieces and nephews. Jimmy was preceded in death by his brother, John Barker; and his parents.

Visitation will be held from 1-2 PM with services following at 2 PM on Friday, October 8, 2021 at Wild Ride Ministries in Harper, officiated by Pastor Mike Weaver. Interment will follow in the Harper City Cemetery.

Pallbearers will be Rusty Marshall, Stephen Holmes, Tommy Beyer, Jimbo Sivells, Tommie Mac Bierschwale and Poncho Ornelas. Honorary pallbearers will be Eric Chasteen, Jimmy Leinweber, Frank Townsend and Noe Gonzales.

Instead of flowers, the family asks that memory contributions be given to the Harper Volunteer Fire Dept.


6 Condolence(s)

Adrian & Ellie Lucero (Cody & Travis)
Las Cruces, NM
Friday, October 8, 2021
Sending our prayers for peace and comfort!
We Love y'all big! Rest In Peace Jimmy 💙


Kathy Armke
Harper, TX
Friday, October 8, 2021
Love and Hugs to You and Your Family

Carye & Victor
Junction, TX
Thursday, October 7, 2021
Prayers to you, Philisha, and your family. My heart goes out to y'all. May Jimmy Rest In Peace and peace be with y'all. We love you guys.

Wanda & Bob Mitchell
,
Wednesday, October 6, 2021
Our prayers to you my beautiful friend and your family. Praying for peace during this time of loss. We love you so much

becky
kerrville, TX
Wednesday, October 6, 2021
Philisha I'm so sorry to hear about your husband...Your Family is in my Prayers..
let me know if you need anythng... (( HUGS)) my friend....

David & Kathy Jung
Harper, TX
Tuesday, October 5, 2021
Prayers to your family and Rest In Peace Jimmy