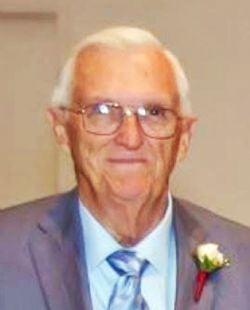 Visitation
Grimes Funeral Chapels
728 Jefferson St.
Kerrville, TX 78028
Friday, October 8, 2021
1:00-2:00 PM
Map & Directions


Send Flowers
Graveside
Garden of Memories Cemetery
3250 Fredericksburg Rd.
Kerrville, TX 78028
Friday, October 8, 2021
2:30 PM
Map & Directions


Send Flowers
Ed Farish
of Kerrville, TX
April 13, 1941 - October 4, 2021
---
Thomas Edward Farish, 80, of Kerrville, Texas, passed away peacefully at his residence on October 4, 2021 with his children, Debra and Michael, by his side.

Ed, as he was known to most everyone, was preceded in death by his wife, Arlene Louise Farish, who passed from this life on August 7, 2021.

Ed and Arlene were married in Lufkin, Texas on April 14, 1961 and had just celebrated their 60th wedding anniversary this past April.

Ed owned a watch and jewelry repair shop in Kerrville and Arlene was a nurse for over 46 years at Sid Peterson Hospital.

Ed was preceded in death by his brother, Pat Farish.

Ed is survived by his children, Debra and Michael; grandchildren and their spouses, Kenton and Sarah, Leeann and Josiah, and Tiffany and Terry; five very special great-grandchildren; brothers and their spouses, Harvey and Debra, Brian and Linda; and sister-in-law, Frances.

Family visitation will be at Grimes Funeral Chapels on Friday, October 8, 2021 from 1-2 PM. Graveside services will follow at the Garden of Memories Cemetery at 2:30 PM, with Brian Farish officiating.

In lieu of flowers, the family has requested that any donations be made to Freeman-Fritts Animal Shelter in Kerrville.

The family would like to thank Jane, Penny and Haley with Embrace Hospice for their professional and loving care for Ed.

5 Condolence(s)

Al and Laura Lutz
Kerrville, TX
Friday, October 8, 2021
Mike I'm sorry I am missing your Dads service. I want you to know that you and your family have been in my thoughts since your Mom passed away. They were very important people to me and my family. May the peace that passes all understanding be with you.

Marilyn Johnson
Kerrville, TX
Thursday, October 7, 2021
Our thoughts and prayers are with the family at this time.

Charles & Marilyn Johnson

Cheryl Hollister
Kerrville, TX
Wednesday, October 6, 2021
Sorry for this great loss to Ed and Arline's family. They
are missed by many.

Dan Gatlin
Kerrville, TX
Wednesday, October 6, 2021
I will certainly miss Ed. We spent many hours talking together at his shop, while he was still working, and his workshop at his home. I will keep the family in my prayers.

Kathy Keese Meyr
Corpus Christi, TX
Wednesday, October 6, 2021
Sending love and prayers for the family. Ed and Arlene were such a great influence on me growing up and I pray their family is comforted during such a difficult time.