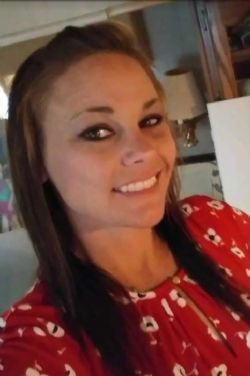 Celebration of Life
Impact Christian Fellowship
2031 Goat Creek Rd.
Kerrville, TX 78028
Friday, October 22, 2021
2:00 PM
Map & Directions


Send Flowers
Ashley Charlene Lackey Hawkins
of Kerrville, TX
May 8, 1987 - October 5, 2021
---
On October 5, 2021, Ashley Charlene Lackey Hawkins got her wings and went to walk with the angels. She was 34 years old. Ashley was born May 8, 1987, to Ray and Rhonda Lackey in Kerrville, Texas.

Ashley lived a life full of adventure. She enjoyed spending her time outdoors fishing, swimming, and camping. When Ashley was not working, she could be found with family and friends. Another important aspect of her life was her involvement at Impact Christian Fellowship where she attended services, Bible study, and volunteered in the church bookstore.

Ashley was a dedicated employee at The Inn of the Hills Hotel and Conference Center where she could be found stepping up to take care of whatever was needed- repairs and maintaining the grounds.

Ashley is survived by her children Hannah Christine, Hailey Marie, and Hayden Ray; Matt Hawkins of Kerrville; her mother, Rhonda Lackey of Kerrville; Grandmothers, Robin Lackey of Kerrville and Nelda Lackey of Tow; brother Ray Lackey Jr. of Kerrville; and sister Rachel Lackey Barney of Idaho; nephews Nathan, Alden, and Grayson Lackey, Randall Barney; and niece Renee Barney.

Ashley was proceeded in death by her father, Ray Lackey Sr.

A Celebration of Life will be held on October 22, 2021 at Impact Christian Fellowship at 2:00pm with Pastor David Danielson officiating.



12 Condolence(s)

Jackie Youngblood
Kerrville, TX
Thursday, October 21, 2021
The world wont be the same with out your smiling face. I will miss you my friend.
To the family, I am so sorry for your loss, and will keep everyone in my prayers.

Dorothy Miller
Ingram, TX
Monday, October 18, 2021
My deepest sympathy for your loss. May you have the Lord's peace that surpasses all understand. God bless.

Brian Robinett
Kerrville, TX
Sunday, October 17, 2021
Another angel taken to soon

Alyssa
Port Huron, MI
Friday, October 15, 2021
I dont have words left. I can not believe this is real.

Phillip Albrecht
Ingram, TX
Thursday, October 14, 2021
We will miss u

Manda Maples
Ingram, TX
Tuesday, October 12, 2021
U will always be one of best friends and our many adventures never ever forgotten. Give your Dad a big hug for me. Rhonda,Ray,Rachel I am here for anything u need, My heart is hurting so bad right now and I'm sorry you have to go thru this. I love you Ashley.

Rachel Ender
ingram, TX
Sunday, October 10, 2021
So very sorry for the lackey family's loss my condolences and prayers go out to them from my family

Lynne Robinson
Ingram, TX
Saturday, October 9, 2021
You'll be greatly missed.
Prayers for your family.

Rachel E. Barney
Idaho Falls, ID
Saturday, October 9, 2021
My sister will forever go on in our memories. a beautiful soul taken way to young, my heart is breaking for my nieces and nephew, know i love you guys so very much.



Jarod
Ingram, TX
Saturday, October 9, 2021
My condolences to Ashley's family you have always been a great friend of mine. Lots of love Jarod

Connie Tilley
Woodsboro, TX
Saturday, October 9, 2021
I'm truly sorry for your loss. My prayers will be with you all
all on this journey.

Mark Damm
Kerrivlle, TX
Thursday, October 7, 2021
Ashley, you are a inspiration to me and to those who love you, you will be missed, but not forgotten.