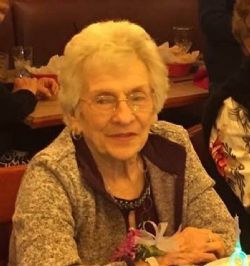 Graveside
Garden of Memories
Kerrville, TX 78028
Tuesday, October 12, 2021
2:00 pm


Send Flowers
Garden of Memories
Kerrville, TX 78028


Send Flowers
Berlene Fletcher Wilke
of Kerrville, TX
February 2, 1937 - October 7, 2021
---
Mrs. Berlene Fletcher Wilke, age 84, died on Thursday, October 7, 2021 in Kerrville after a long illness. Berlene was born on February 2, 1937, in Kerrville to the late Bertram and Mary Ellen Fletcher (nee' Flenniken).

Born and raised in Kerrville, Berlene graduated from Tivy High School in 1955. She married Curtis Wilke on February 15, 1958, and was a bookkeeper in the auto parts and medical supply industries before retiring in 2001. Berlene was preceded in death by her parents and husband.

Berlene is survived by her children: daughter, Patty Burleson, and husband David of Livingston, Texas; and two sons, Fletcher Wilke and wife Glennda of Lakehills, Texas, and Kevin Wilke and wife, Niki, of Poulsbo, Washington. She is also survived by her sisters, Joyce Ingram and Ellene Masters, both of Kerrville. Additionally, survivors include one grandson, Justin Burleson and wife, Stacy; and five granddaughters, Tori Basinger and husband, Tommy; Rebecca Burleson and husband, Bryan Light; Shelby Ray and husband, Alex; Danielle Wilke and husband, Elijah McWashington; and Gabrielle Wilke. Berlene also had seven great-grandchildren: Joshua and Hannah Basinger, Bailey and Brynn Burleson, Kendrick McWashington, Maxwell Ray and Ellum Light, as well as numerous nieces and nephews.

A graveside service will be held on Tuesday, October 12, 2021 at 2:00 p.m. at the Garden of Memories Cemetery in Kerrville.

The family would like to express their appreciation to the employees and staff of Alamo Hospice and Brookedale/Juniper Senior Living for the excellent care they extended to Berlene during her lengthy illness

Funeral arrangements are entrusted to Grimes Funeral Chapels of Kerrville.


4 Condolence(s)

Robby Koch &family
Comfort, TX
Saturday, October 9, 2021
Sending prayers, sympathy and deepest condolences. She will be deeply missed.

Tonya Duncan
Kerrville, TX
Saturday, October 9, 2021
Fletcher and family, I'm sorry for your loss. My family and
I are sending lots of hugs, love, thoughts and prayers!!

Deborah Fournerat
Beaumont, TX
Friday, October 8, 2021
Patty, My condolences on the loss of your Mom. Keep those special memories alive by telling Ellum about her great-grandmother. Prayers for you and your brothers.

Dina Stark Leonard
Seguin, TX
Friday, October 8, 2021
My deepest condolences on the loss of your
Sweet Mother, Patty. God Bless you and
Your family. We are lifting you up in prayer!
Love and Hugs,
Dina Stark Leonard & Family