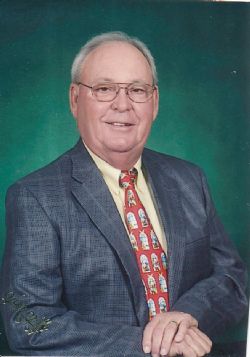 Visitation
Trinity Baptist Church
800 Jackson Rd.
Kerrville, TX 78028
Thursday, October 14, 2021
1:00 pm
Map & Directions


Send Flowers
Funeral Service
Trinity Baptist Church
800 Jackson Rd.
Kerrville, TX 78028
Thursday, October 14, 2021
2:00 pm
Map & Directions


Send Flowers
Garden of Memories
Kerrville, TX 78028


Send Flowers
Durwin Allen Hill
of Kerrville, TX
June 27, 1939 - October 7, 2021
---
Durwin Hill, 82, went home to be with the Lord peacefully at home with his wife Donna by his side on October 7, 2021. Durwin was born in San Angelo, Texas to Loma and Allen Hill and was raised in San Saba, Texas. He graduated from San Saba High School in 1957. He attended Tarleton State University and this is where he met and married Paula Bell in 1959. Durwin earned a Bachelors of Science in Vocational Agriculture from Texas Tech University and a Masters of Education from Texas A&M University.

Durwin taught Vocational Agriculture high school students in Graham, Texas and College Station, Texas. He then became the Area Supervisor for the Texas Education Agency where he supervised Vocational Agriculture programs in the Central Texas area. He then served as the Executive Secretary of the Texas FFA Association where he mentored the state officers and planned and supervised the Texas FFA Convention each year. Durwin retired from the Texas Education Agency after 25 years of service.

Durwin loved the Future Farmers of America and vocational agriculture and passionately believed in their mission to develop students into leaders of the next generations of agriculture.He enjoyed working with students on their projects (heifers, lambs, chickens, hogs) and seeing his students grow and win awards at stock shows across the state. He loved a good stock show and rodeo and was sought out by Livestock shows around the state to serve as a judge. He was active as Arena Director for the San Antonio Exposition, Inc., Junior Beef Cattle Assistant Supervisor for the Houston Livestock Show & Rodeo and as Junior Barrow Assistant Superintendent of the State Fair of Texas.

Durwin and Paula raised their family in Waco, Texas and then Austin, Texas. After retirement, Durwin and Paula travelled around the country for years in their RV exploring our beautiful country and spending time with their grandchildren before they settled down in Kerrville, Texas. Durwin lost Paula, his beloved wife of 52 years, in 2013.

Durwin married Donna Stromberg in 2015 in Kerrville, Texas. He often said how blessed he was to find such a wonderful wife for the second time in his life. Durwin was a member of Trinity Baptist Church in Kerrville where he served as a Deacon and as the Director of the Jubilee Sunday School class and enjoyed reading and learning more about the scripture. He was also a member of the Prime Time Choir and enjoyed traveling to sing with his church family.

Education and hard work, faith and family were key tenants to how he lived his life. Durwin was a master story teller and regaled loved ones and strangers alike and was the life of any room he entered. He passed these values on to his daughters and grandchildren, whose education and many activities he loved and supported tirelessly.

He is preceded in death by his wife Paula Hill, his brother Carrol Hill, his sister-in-law Chloe Jane Hill, and his Son-in-Law Gerry Grafa. Those left to cherish his memory are his wife Donna Hill, his two daughters Christi Marrufo and Sherri Grafa, and his granddaughters and nieces and nephews.

The family would like to thank the Anna Garcia, Nayome Garcia and Peterson Hospice for their loving care of Durwin, allowing him to be home with his wife and puppies in his last months and days.

A viewing will be held Thursday, October 14, 2021 at 1:00 pm at Trinity Baptist Church. Service will follow at 2:00 pm with John Wheat officiating. Interment will follow at Garden of Memories.

9 Condolence(s)

Van and Tona Wilson
Paris, TX
Thursday, October 14, 2021
Dear Family of Mr Hill, please know that Tona and I
I are and will continue to pray for each of you. Mr HHill
Hill was my Vocational Agriculture teacher at Graham High School.
In addition he was my very good friend.


Nayome Garcia
Kerrville, TX
Thursday, October 14, 2021
My condolences to the Hill family! Mr. Hill you changed my life in many ways most importantly you led me to the lord! I will forever be grateful! It was an honor to care for you until the end. See you under the tree!!!

Anjali S
Santa Clara, CA
Wednesday, October 13, 2021
Dear Christi,

My condolences on the passing of your father. May his soul rest in peace and may his cherished memories bring life long comfort to you and your family.


Take care.

Weldon French
MARBLE FALLS, TX
Wednesday, October 13, 2021
Durwin was a great friend and wonderful leader in First Baptist Church of Marble Falls. He was the president of the Pastor's Class for quite a few years and did a fantastic job as a leader.
I really enjoyed talking with him, especially about agriculture and stock shows. My prayers for all the family, especially Sherri. God bless you!
Weldon

Gary and Michelle Salas
AUSTIN, TX
Wednesday, October 13, 2021
Our deepest sympathies and love go out to the family. We look forward to the clouds of the present melting away into the sunshine of the loving memories of his life lived. Sending our love your way today and always.

priti Rastogi
Sunnyvale, CA
Tuesday, October 12, 2021
So sorry for your loss Christi! Having read about him he seemed to have led a very full life- that's amazing. My thought and prayers are
with you and your family to give strength to bear this loss. May his soul Rest In Peace.

Elad Gonen
Tel Aviv,
Monday, October 11, 2021
My deepest sympathies go out to you Christi and your family.

I'm truly sorry to hear of the loss of your father. Please accept my condolences and may our prayers help comfort you.

May your father's memory be for a blessing.

Quenette Mendenhall
Austin, TX
Monday, October 11, 2021

Dear Christi,

May you have happy and meaningful memories of your father to bring you comfort. My sympathy and best wishes at this difficult time. Please let me know if you need anything. I am here for you.

Sending virtual hugs.

Sincerest regards,

Quenette Mendenhall

Archie Mekonnen
Leander, TX
Monday, October 11, 2021
My deepest condolences Christi. May he rest in peace. May God be on yours and your family side as you go through this difficult time. Passing of loved ones is always difficult but you will learn how to live with it over time and cherish the wonderful memories. Take care