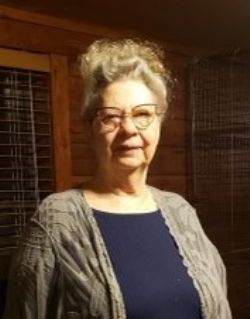 Funeral Service
Grimes Funeral Chapels
728 Jefferson St.
Kerrville, TX 78028
Thursday, October 14, 2021
2:00 PM
Map & Directions


Send Flowers
Ft. Sam Houston National Cemetery
1520 Harry Wurzabach Rd.
San Antonio, TX 78209
Map & Directions


Send Flowers
Barbara Ann Linder
of Kerrville, TX
April 6, 1947 - October 7, 2021
---
Barbara Ann Linder of Kerrville, passed away Thursday, October 7, 2021 in Kerrville. She was born in Scottsboro, Alabama to James Isaac Lackey, and Annie Hancock Lackey on April 6, 1947.

She married Bartley Joseph Linder on October 26, 1985. She went to Calumet College and then worked as a secretary at Community Hospital for many years, and after marriage, she was a homemaker.

She was preceded in death by Bartley Joseph Linder; father, Isaac Lackey; mother, Annie Lackey; brother, Tony Lackey; and sister-in-law, Barbara Lackey.

Barbara is survived by children, James Snuffer, Bartley Linder Jr., Connie, Gregory (Yallian), Dan, Gary (Linda), Steve (Rene), Randy (Charity), and Eric (Melody).

Grandchildren are Dayspring Conley (Jeremie), Lamblight Henry (Brandon), Mercy Felice (Rich), Harmony Linder, Rhema Linder (Kara), Judah Linder, Ransom, Stephanie Cooper (Micah), Stacy Ham (James), Benjamin Linder, (Klara), Dante Spears, Orlando Spears, Erluis Vasquez, Kiersten Strong, (Sam), Brittany Schroeder, (Will), Priscilla Duke, (Derek), Caleb Linder, Michael Yarborough, Joshua Linder, Hope Linder, Jonathan Linder, Chelsey Roberts, (Scott), Hannah Sanchez (Justin), Bethany Linder, Abigail Geraldo (Joshua), Graceanna Linder, and Sarah Linder.

She has numerous great grandchildren and nieces and nephews that was well loved, as well as sisters-in-law, Becky, and Joyce; brother, Jim Lackey; and sister, Deborah Cole, (Ken).

Barbara also loved Matthew Lackey, DiDemi Lackey, Kathy Poe, (Patrick), and Aarica.

She also loved her animals. She will be missed by all.

Services will be held 2 PM, Thursday, October 14, 2021 at Grimes Funeral Chapels officiated by David Barr. She will be laid to rest next to her husband at Ft. Sam Houston National Cemetery.

3 Condolence(s)

Yallian
Navasota, TX
Tuesday, October 12, 2021
You were a living example of joy, love, kindness, peace, patience, gentleness and self-control.

What a pleasure to have met such a good person!!!

You carried your role as a Christian with decency and dignity!

You know we love you so so much !!!

Rest in peace, Barbara !!!


Annita Rodriguez
Somerset,, TX
Tuesday, October 12, 2021
My condolences to the family. I'm going to miss you, Sister Barbara Linder. You were the most amazing person I knew. I'm glad to seen you at church when me and my mom went. I'm thankful for the life God gave you to serve him all the days of your life. There's no other like you. Thank you Jesus for Barbara Linder. May she rest in heavenly peace. From the Rodriguez family.

Shirley Borlace
San Antonio, TX
Tuesday, October 12, 2021
My condolences to the family. She will be greatly missed. She was a godly women and a sweet person. Praying for the family.