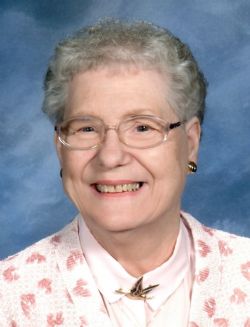 Graveside
Garden of Memories Cemetery
3250 Fredericksburg Rd.
Kerrville, TX 78028
Thursday, December 2, 2021
11:00 AM
Map & Directions


Send Flowers
Barbara Louise Nugent
of Kerrville, TX
January 3, 1934 - November 22, 2021
---
Barbara Louise Nugent, 87, passed away on Monday, November 22, 2021 in Taylor, Texas. A graveside service will be held at 11:00 a.m. on Thursday, December 2, 2021 at Garden of Memories Cemetery in Kerrville, Texas.

Mrs. Nugent was born in Overton, Texas on January 3, 1934. She spent most of her childhood in Sundown, Texas where she also graduated from high school. On December 31, 1952, she married the love of her life, Byron Mac Nugent. She raised three sons, Wayne, Bill, and Jim, in Big Spring, Texas and was very active in her children's lives, including becoming a Cub Scout leader and president of the PTA. In 1972, when her children were teenagers, Barbara became an LVN. She worked several years as a nurse, including time at the VA hospitals in Big Spring and Kerrville.

Barbara was a member of Eastern Star of Kerrville. She enjoyed playing all kinds of card games, and she was an excellent bridge player. No matter the game, she was extremely competitive and took no prisoners. Barbara was well known for her house remodeling style. She never met a wall she couldn't take down with her hammer. She made the best jalapeno jelly and coconut cream pies.

Survivors include: sons, Wayne Nugent of Richmond, TX, Bill Nugent and wife Ruth of Arlington, TX; granddaughters, Barbara Surles and husband Jeff of Austin, TX, Kelly Hong and husband Kendall of Hutto, TX, Lauren Blanchette and husband Joe of Arlington, TX, Michelle Veale and husband Richard of Ellabell, GA; great-grandchildren, Olivia, Logan, and Emily; sisters, Vera O'Dell of Lubbock, TX, Pat Shults of Collinsville, OK; brother, Jimmy Dann Nugent and wife Reba of Kerrville, TX; sister-in-law, Elnora Nugent of Sundown, TX; and many nieces, nephews, and other family members.

She was preceded in death by her husband, Byron Mac Nugent; parents, Ernest Eugene and Mazzie Nugent: brothers, R. G. Nugent, Marion Nugent, and Gene Nugent; sister, Mary Ann Turner; and daughter-in-law, Sandra Nugent.

Barbara's family is thankful for the attentive love and care she received at the SPJST Assisted Living Community (and especially the Memory Care team) in Taylor, TX.

The family requests memorials be made to the Alzheimer's Association or to the charity of your choice.


2 Condolence(s)

Cristi Romine
Wink, TX
Monday, November 29, 2021
So very sorry to hear about Aunt Barbara! Our thoughts and prayers are with you all!

Cleo Gaither
Spring, TX
Thursday, November 25, 2021
I am saddened to hear about the passing of Aunt Barbara. I always had fun around her when we would go to her house.
My thoughts and prayers are with the family.
Cleo