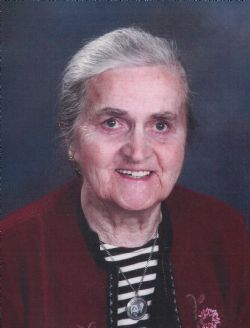 Rosary
Notre Dame Catholic Church
909 Main St.
Kerrville, TX 78028
Saturday, January 15, 2022
10:00 AM
Map & Directions

Memorial Mass
Notre Dame Catholic Church
909 Main St.
Kerrville, TX 78028
Saturday, January 15, 2022
11:00 AM
Map & Directions


Send Flowers
Anna Daschner Borkowski
of Kerrville, TX
April 26, 1925 - November 23, 2021
---
Anna was born to Georg and Theresa Daschner on April 26, 1925 in the small German village of Gerhersberg. On November 23, 2021, at the age of 96, she left her earthly body and entered the Kingdom of Heaven as a beautiful spirit and child of God.

Anna had a full life comprised of love for God, family, and friends. Her life was filled with a multitude of challenges, which only made her stronger. She also experienced many wonderful successes. She was forever more active than any one person should have the strength, stamina, and fortitude to be.

In 1949, soon after World War II ended, she married the love of her life, Helmut Borkowski, and they moved to Kassal, Germany. In 1955 they bravely immigrated to America with their two young daughters. They made a loving home in Kerrville and continued to grow their family with the addition of a son and another daughter. Anna had to learn the language and culture of the new world while managing a household and raising four children. She helped to sustain her family by working various jobs for many years. She was an active member of the community primarily through worship and volunteer activities at her church, Notre Dame.

Anna trusted God completely and often quoted her father's words ''In Gottes Namen'' (in God's name). Anna was resilient, strong, loving, selfless, truthful, helpful, brave, adventurous, scholarly, and nature loving. She was also fun loving, witty and grateful to have experienced so much in her life. We will always treasure the time we had with her and the memories and love that are indelibly etched in all our hearts.

Anna is survived by her four children: Franziska Schmiz, Gabriele (Tim) McCarty, George Borkowski and Mary Ann (Mike) Conroy; and her sister: Franziska Messerklinger (Germany). She is loved and will be dearly missed by her seven grandchildren: Monica (Eric) Gutierrez, Travis (Kendra) McCarty, Geoffrey (Courtney) Borkowski, Yvette (Justin) Carter, Kevin (Barbara) McCarty, Christopher (Stefanie) Borkowski and Cole (Alex) Borkowski; and her 14 great-grandchildren: Eric Joshua, Zara, Elaina, Alexa, Braedon, Kallen, Libby, Guinevere, Colette, Luke, Feanix, Irys, Andrew and Roland. Anna is also survived by numerous extended family members.

Funeral services will be on January 15, 2022 at Notre Dame Catholic Church, Kerrville, Texas with a rosary service at 10 a.m. and funeral mass at 11 a.m. A reception at the Dietert Center, 451 Guadalupe St. will follow.

Anna's family wishes to extend our sincere thanks to all the special people at Hilltop Village and Peterson Hospice. It was Anna's request that, in lieu of flowers, donations be made to the Notre Dame St. Vincent de Paul Society (www.svdpndkerr.org, 830-896-6898).



1 Condolence(s)

Emily Antunez (Emmy)
Fredericksburg, TX
Wednesday, January 19, 2022
Hi. This is Emmy I worked at hilltop and took care of Mrs.Borkowski for a little over 2 years. I apologize I am just now hearing of her passing and I wanted to send me deepest dondolences to her children. Yall were so wonderful and delightful people. She really was a joy. I'll be keeping yall in my prayers .