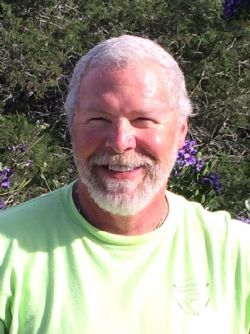 Memorial Service
Living Waters Church
13976 FM 1050
Utopia, TX 78884
Sunday, December 19, 2021
2:30 PM
Map & Directions


Send Flowers
Bryan Douglas Keeling
of Vanderpool, TX
June 3, 1965 - December 5, 2021
---
Bryan Douglas Keeling, 56, of Vanderpool, went to be with the Lord on December 5, 2021, in San Antonio, after suffering irreparable damage to his heart and lungs after an incident with an Aoudad. He was born in Fairfax, Virginia, to Harry Lee Keeling and Elva Alta (Reed) Keeling on June 3, 1965. He married Debbie (Thompson) Keeling on July 30, 1990, in Bandera.

His family moved to Medina when he was young, and he grew up there. He went to Medina School, where he was known for playing football and being an all-around jokester. He worked as a ranch hand for Siesta Valley Ranch, the ranch manager at Bug Scuffle Ranch, and was most recently the wildlife manager and ranch hand at Growing Rocks Ranch. He guided bowhunters for 21 years at Bug Scuffle. He was part of the Medina Volunteer Fire Department in the 1980s and the Vanderpool Volunteer Fire Department from 1998 to 2021, serving as captain and assistant chief. He was trained in exotic game capture and was a scorer for the Lone Star Bowhunters Association, Trophy Game Records, and Records of Exotics. He was a life member of Traditional Bowhunters of Texas and previously served as regional representative for both TBOT and LSBA. He was involved in 3D archery through TBOT, LSBA, the International Bowhunting Organization, and local archery clubs. He sponsored youth hunts for LSBA and TBOT. He was inducted into the LSBA Hall of Fame alongside his wife in 2016.

He first began bowhunting in 1984, but rekindled his interest in 1992 after being introduced to the LSBA and TBOT by his dear friend, Wyatt Birkner. He harvested a multitude of species from mice to elk throughout his lifetime. His most unique harvest was a capybara, after which a new category was added to the Texas Bowhunting and Bowfishing Records. He preferred shooting with a traditional bow and enjoyed bowfishing. He was well known for introducing many people, young and old, to the bowhunting world. Bryan said that through bowhunting, he met some of the best people in the world and made lasting friendships. Bryan believed that if you take your kids hunting, you don't have to hunt for your kids.

Bryan's love for his family, especially his granddaughters, was second only to his faith in Jesus. He and his wife did everything together: hunting, fishing, raising a family, and going to church. They made a point to enjoy family meals together around the dinner table. He was a pillar in his community who helped out anyone with anything. He was a strong man of faith. He was brought up and baptized at the Medina Church of Christ and later a member of the Living Waters Church of Utopia. He will be remembered for his heart for service, joyful demeanor, pension for practical jokes, and gift for storytelling.

Bryan was preceded in death by his father Harry Keeling, granddaughter Madeline Bryn Haines, both sets of grandparents, father-in-law Elvin Winston Thompson, and mother-in-law Nancy Ellen Coble Thompson.

He is survived by his wife Debbie, daughter Codi Haines and her husband Philip, daughter Chloe Keeling, mother Elva Keeling, stepmother Marian Salmons, brother Robert Keeling and his wife Donna, sister Sharon Curry and her husband Craig, brother John Keeling, sister Carolyn Anderson and her husband William, granddaughters Abigail and Grayson Haines, aunt Anita McMinn, and numerous nieces and nephews.

A funeral service will be held at 2:30 pm on Sunday, December 19, 2021, at Living Waters Church in Utopia, with Robert Richarz officiating. Reception is to immediately follow at the Utopia Community Center. A private graveside service for the family and community will be held at the Vanderpool Cemetery on Monday at 1 pm.

Flowers may be sent to the Living Waters Church and donations in his honor may be sent to The Water Hole via the Living Waters Church.

The family wishes to extend their sincere thanks to Dr. Saleh Jaafar and all the CVICU staff at Methodist Hospital for trying so hard to save Bryan.

Condolences may be sent at www.grimesfuneralchapels.com.

Funeral arrangements are entrusted to Grimes Funeral Chapels of Kerrville.


21 Condolence(s)

Sandi Woodfin
Conway, SC
Friday, December 24, 2021
Keeling Family,
We spent so much time together years ago. I have so many fond memories of Bryan. I'll always remember his sweet heart and good natured spirit. He could make you smile and laugh out loud without even trying. You Keelings have always meant the world to us. Debbie I think I feel your pain with losing my soul mate last Dec.3rd. Live on your memories and 1 day at a time. My heart and prayers are with you. I love all of you dearly.
Love Always and Forever,
Sandi Woodfin


Rani, Ron, and Rian Culp
San Antonio, TX
Sunday, December 19, 2021
Life on earth is better with you in it. You will forever be loved and missed.

Greg, Elaine & Allison Compton
Spring, TX
Saturday, December 18, 2021
Bryan was the nicest guy and will be missed by everyone who ever knew him. We really appreciate his sincere interest in getting kids involved in traditional archery.

Keeping his family in our prayers.

The Billy Reed Family
San Antonio, TX
Friday, December 17, 2021
You will be missed dearly by everyone you touched throughout your lifetime. I know that Billy will never forget the wild and crazy times you guys shared together growing up. You made some wonderful memories that will be shared for years to come.

Terry Leek
Lewiville, TX
Saturday, December 11, 2021
Thoughts and prayers for all of his family, he was a a
He was an awesome person and loved his
Family , he loved life , his job , volunteering
Raising his family . True dedication we will
Always have a place in our heart for him.
We love you and will miss you.

Johnny and Laura Burkhalter
San Angelo, TX
Friday, December 10, 2021
Words can't express our shock and sorry for the loss of such a power personality and presence. A true super man in every way.

Barb Martinez
San Antonio, TX
Thursday, December 9, 2021
Debbie and Codi,

I am so very sorry for your loss and I send you my deepest heartfelt condolences along with a whole bunch of love and hugs during this difficult time. For the short time I spent with you all, just know the tremendous effect you had on me and how caring for Bryan was my great privilege. May he rest in peace...God bless you all.

Annette Cureton
Pflugerville, TX
Wednesday, December 8, 2021
I was Bryan's 3rd grade teacher. He was a happy, bright, engaged learner who was humble yet very out going. The twinkle in his eyes and his ever present smile conveyed to me a deeper and more mischievous, adventurous soul that would become a "loving large" man. And so he did, making a humble life of large, loving memories. Your presence in this life, Bryan, is greatly missed even as the love endures.
Mrs. Annette (Moncus) Cureton

Jim and Debbie Chastain
Bandera, TX
Wednesday, December 8, 2021
We are so sorry to hear about Bryan. He was younger than me in school however, in Medina, we knew everyone. We think highly of the Keeling family and are blessed to call them friends even though we haven't been in close contact in many years. My husband didn't go to school with us but had the pleasure of working with Bryan in recent years. Please know you are all in our prayers.
Debbie and Jim Chastain

Eric and Lisa Boenker
Floresville, TX
Tuesday, December 7, 2021
Prayers for all the family. Bryan will definitely be missed.

Wanda Newsom
Taylor, TX
Tuesday, December 7, 2021
My prayers are with the family in this time of sorrow. May God bless each of you.

Mike & Libby Rust
New Braunfels, TX, TX
Tuesday, December 7, 2021
Our sincere condolences to Debbie and Codi and family. May the peace that Bryan is with his Savior Jesus Christ bring you comfort in the difficult days ahead. Love & prayers,
Mike & Libby

Mike and Nancy Palmer
Gulnare, CO
Tuesday, December 7, 2021
Bryan you could make all laugh in the most difficult and trying times. Wonderful person. Contributed so much to archery in Texas.
Prayers for the family.
We love you all.

Steve and Dena Drummond
Elkins, AR
Tuesday, December 7, 2021
My mind can't even comprehend what a giant, tragic loss this is. Bryan was a great man and a friend to everyone. We are so very heartbroken over this. Our thoughts and prayers go out to Debbie, Codi and all his family and friend He will be truly missed. 😢

Joel and Dixie Duncan
Marble Falls, TX
Tuesday, December 7, 2021
Prayers for the family

Shane and Renia Merritt
Bandera, TX
Monday, December 6, 2021
Our thoughts and prayers are with you all during this difficult time.

Jim and Niki Witte
State center, IA
Monday, December 6, 2021
Our thought and prayers are with you and the family love niki

Tracey Sadler
Cameron, TX
Monday, December 6, 2021
Brain, you were truly a tower of a man in our world. Larger than life, humble as can be. You were an inspiration of determination, grit, fun, and a solid rock in the river of life. May Heaven open the doors wide and greet you with open arms. I know that Jesus was your savior and I'm sure you are with Him now. God rest your weary soul. May He bless Debbie and the rest of your family throughout this time.

Allen Shuler
Haslet, TX
Monday, December 6, 2021
Praying for the family. Bryan was a mentor for us all, old and young alike.

Kathy mcguire
The Woodlands's, TX
Monday, December 6, 2021
Debbie and Codi I'm so sorry for your loss Bryan was such a wonderful who loved you both so much he will truly be missed your both are in my prayers love you

Mike Harr
Bonham, TX
Monday, December 6, 2021
Going to really miss you Bryan. The hunts you guided me on were some of the best times I've ever had and was looking forward to another this spring. My prayers and condolences to Debbie and the family and Bryan's many many friends. Godspeed to the toughest man I know.