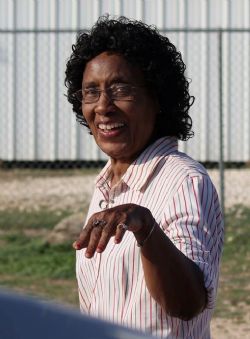 Visitation
Grimes Funeral Chapels
728 Jefferson St.
Kerrville, TX 78028
Thursday, January 6, 2022
5-7 PM
Map & Directions


Send Flowers
Funeral Service
Grimes Funeral Chapels
728 Jefferson St.
Kerrville, TX 78028
Friday, January 7, 2022
10:00 AM
Map & Directions


Send Flowers
Adam Branch Cemetery
Hallettsville, TX


Send Flowers
Helen Jean Mitchell
of Kerrville, TX
November 25, 1934 - December 31, 2021
---
Helen Jean Mitchell was called home to be with the Lord on December 31, 2021. She was born on November 25, 1934 in Hallettsville, Texas to George Foley and Ella Perkins Foley.

Helen married Rabb Mitchell, Jr. in 1953 and from that union, three children were born: Rosaline Mitchell, Wanda Benson and Ray Mitchell.

Helen was preceded in death by her parents and siblings: George Morris Foley, Elton Leroy Foley, Ellie V. Lewis, Mella Goode and Rosie Lee Lenzy.

Helen is survived by one sister Nannie Mae Love of San Antonio, Texas.

Helen was a free spirit enjoying the outdoors, planting flowers and vegetation, and she loved music and dancing. She worked in the Health Care field for several years as a Nurse's Assistant; she always considered herself as a ''Caring Aide.'' Her favorite scripture was 1 Thessalonians 4:11: To make it your ambition to lead a quiet life, you should mind your own business and work with your hands, just as we told you.

She always gave God the glory for what she accomplished in her life. She was a member and attended Kerrville Christian Center Church during her later years.

She leaves to mourn her children: Rosaline Mitchell, Wanda (Tim) Benson, and Ray (Lisa) Mitchell; and grandchildren: Craig (Charlotte) Benson, Athon (Daniel) Booker, Lorenzo (Jordyn) Mathieu III, Tosha Mathieu, Kendra (Elgin) Dawson and Karima Mitchell. She also leaves to mourn 15 great-grandchildren.

Visitation will be held from 5-7 PM, Thursday, January 6, 2022 at Grimes Funeral Chapels.

Services will be held at 10 AM, Friday, January 7, 2022 at Grimes Funeral Chapels, officiated by Pastor James Wilson. Burial will follow at 3 PM at Adam Branch Cemetery in Hallettsville, Texas.


2 Condolence(s)

Marlena Lau
Kerrville, TX
Sunday, January 9, 2022
Precious Mrs. Mitchell. She will be so very missed. We always enjoyed her singing and dancing at her visits. Dr. Robledo and I send our condolences. Prayers for you all.

Jane Barron
Kerrville, TX
Saturday, January 8, 2022
Rose and Wanda
So sorry to read about the passing of your mother
May she rest in peace !
Jane