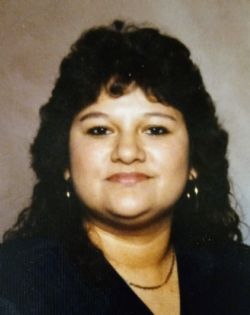 Visitation
Grimes Funeral Chapels
728 Jefferson St.
Kerrville, TX 78028
Sunday, January 9, 2022
All Day
Map & Directions


Send Flowers
Funeral Service
Grimes Funeral Chapels
728 Jefferson St.
Kerrville, TX 78028
Monday, January 10, 2022
11:00 AM
Map & Directions


Send Flowers
Alice A. Salinas
of Kerrville, TX
December 1, 1959 - January 7, 2022
---
Alice Ann Salinas of Kerrville, TX, passed away on January 7, 2022 in Kerrville. She was born in Kerrville to Albert and Minnie Cortez on December 1, 1959. She married Melquiades Salinas Jr. on August 12, 1978 in Boerne, TX.

She went to Fredericksburg High School. She worked as an accountant for James Avery Craftsmen for 30+ yrs.

Alice was preceded in death by her father, Albert Cortez; sister, Elizabeth Castillo; and brother, Arnold Cortez.

Alice is survived by her spouse, Melquiades Salinas Jr.; daughters, Lisa Marie Salinas and Amber Ann Salinas; brothers Albert Cortez Jr., Tony Cortez, and Arthur Cortez; sisters, Elvera Sanchez and Teresa Guarjado; her mother, Minnie Cortez; grandchildren, Rozzlyn Aeriella Roberts and Bryanna Leigh Salinas.

Viewing will be all day Sunday January 9, 2022 at Grimes Funeral Chapels.

A memorial service will be held at 11am on Monday January 10, 2022 at Grimes Funeral Chapels with Pastor Heath Way of Calvary Temple Church, officiating.

Memorials may be given to Calvary Temple Youth Ministry-Elevation.