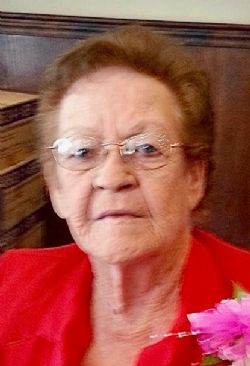 Visitation
Grimes Funeral Chapels
728 Jefferson St.
Kerrville, TX 78028
Thursday, January 13, 2022
5-7 PM
Map & Directions


Send Flowers
Funeral Service
Grimes Funeral Chapels
728 Jefferson St.
Kerrville, TX 78028
Friday, January 14, 2022
10 AM
Map & Directions


Send Flowers
Nichols Cemetery
Kerrville, TX


Send Flowers
Betty Jane Way
of Kerrville, TX
January 12, 1931 - January 10, 2022
---
Betty Jane Way, beloved wife, mother, grandmother, aunt, and friend, passed away Monday, January 10, 2022, surrounded by love in Kerrville, TX. She was 90 years old. She was born in Kerrville to William ''Bill'' and Nettie (McGee) Morris, where she lived and grew in family and faith. She later married the love of her life, Kenneth ''KJ'' Way on September 21, 1946 in Snyder, TX.

Although Betty was the supervisor at Alpine Terrace for more than fifteen years, she is most well known for her open door, open arms, and Sunday lunches. Sunday lunch was a staple in our lives, not only to family but to all others she treated as family. There was always room at her table. She was the most amazing Wife, Mother, Momo, Gumball, and Grandma the world has ever known. Her faith and grace were evident for all to see in her words and actions. She loved God and her family above all else.

Betty was preceded in death by her husband, parents, stepmother, granddaughter, Jimmie Michelle, and numerous nieces and nephews. She is survived by her children, Sylvia Jane Way, Kathy Gail McGehee (Cecil), Twila Yvonne Rotge (Ronny), Bonnie Jean Crider (Jimmy); grandchildren, Buddy McGehee (Susan), Tammy McGehee, Scott Rotge (Brooke), Christi Massey (Tojo), Sean Rotge (Karen); five great grandchildren; and numerous nieces, nephews, and cousins.

Visitation will be 5:00pm-7:00pm, Thursday, January 13, 2022 at Grimes Funeral Chapels.

Services will be at 10:00am, Friday, January 14, 2022 at Grimes Funeral Chapels. Graveside service to follow at Nichols Cemetery, Kerrville, TX.

Following the services, please join Betty's family at a reception to remember her at Scott and Brooke Rotge's home in Ingram, TX.

Pallbearers will be Scott Rotge, Sean Rotge, Dustin McGehee, Ronny Rotge, Jimmy Crider, Cecil McGehee.

Honorary Pallbearers will be Buddy McGehee, Jaxson Rotge, Bennett Blankenship, Carl Spiva.


2 Condolence(s)

Janice and Ronald Smith
Harper, TX
Friday, January 14, 2022
So sorry to hear of Mrs. Betty's passing! She was a special lady! Our prayers are for the family and loved ones in these days ahead, for comfort and peace, knowing she's with her Savior, Jesus, and those who have gone on before.

Diane Perhamus
Hunt, TX
Wednesday, January 12, 2022
Betty was such a loving person. She was one of the hardest workers
I ever had the priviledge to work with. Prayers for all of you. She
Is with Jesus now.