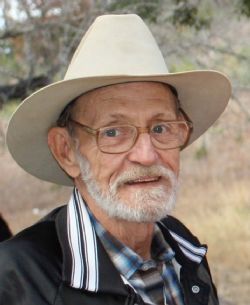 Memorial Service
Calvary Temple Church
3000 Loop 534
Kerrville, TX 78028
Saturday, January 29, 2022
1:00 PM
Map & Directions


Send Flowers
Delwin Travis Way
of Kerrville, TX
May 20, 1935 - January 11, 2022
---
Delwin Travis Way, 86, of Kerrville, passed away peacefully in his sleep Tuesday, January 11, 2022 in Kerrville to meet his Lord and Savior. Delwin was born May 20, 1935 to James Arthur and Christine Hamilton Way in Plainview, Texas.

Delwin is survived by his two children, Del Way and wife Cindy of Kerrville, and Mary Annette Streun and husband Kelly of Midland; his sister, Neva Grace Steiner and Billy Joe of Kerrville; sister-in-law, Vida Way of Brenham, Texas; seven grandchildren; seventeen great-grandchildren; six great-great-grandchildren; and numerous nieces and nephews.

Delwin was preceded in death by his parents; his siblings, Weldon, Estell, Christine, Naoma, Denver Sr., Richard, Barbara and Billy Walter.

Delwin loved country and gospel music and was gifted to play guitar, piano, harmonica and banjo all by ear. He was quite the entertainer and could yodel with the best of them. He loved making the kids laugh by singing silly songs he made up and wearing his hat all goofy ways. He was a favorite to many. He loved westerns and often wished he could have lived back in those days. You rarely saw him without his Wrangler jeans, snapped western shirt, boots and cowboy hat.

Del and his sister, Annette want to thank the staff at Alpine Terrace and Alamo Hospice for all the love and care they gave their dad.

A memorial service will be held at 1:00 PM, Saturday, January 29, 2022 at Calvary Temple Church 3000 Loop 534, Kerrville, Texas.


3 Condolence(s)

Fred, Ruby, Connie and Jerry Asbury
Kerrville, TX
Tuesday, January 18, 2022
Our sincere condolences to you all. May God's peace, comfort and presence be will you all. We love you all. The Asbury family

Doyle and Cheryl Grundy
Kerrville, TX
Monday, January 17, 2022
May God comfort you in your loss.

Jennifer Bartts
Kerrville, TX
Wednesday, January 12, 2022
Pastor Del, You and your family are in my prayers. I'm so glad your dad found Jesus and is for sure dancing up in heaven right now. May peace come over y'all in this time of mourning. Jennifer Bartts