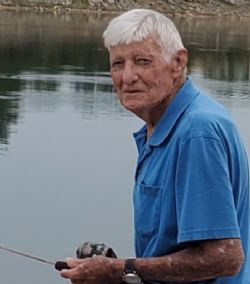 Memorial Service
Center Point High School New Gymnasium
207 China St.
Center Point, TX 78010
Saturday, April 30, 2022
1:00 PM
Map & Directions


Send Flowers
Mitchell Hugh Butler
of Center Point, TX
April 28, 1935 - April 20, 2022
---
Mitchell Hugh Butler, of Center Point, Texas, went to be with his Lord and Savior on April 20, 2022 at the age of 86.

Born in Laredo, Texas into the musical family of Hugh and Thyra Jean (Horn) Butler on April 28, 1935, Mitch was the second of five siblings. After living in several small south Texas towns where his father was a teacher and band director, they settled down in Sweeney, Texas. There he met the love of his life, Sharon Leanne Honea, who stole his heart.

''Mickey'' and Sharon were married on July 7, 1957 and went on to realize their dreams of raising their five children: Mitchell, Allen, Vonda, Shara and Walton.

After graduating from Sweeney High School, Mitch attended Wharton Junior College, Texas A & M and The University of Texas. Some of his fondest memories and stories are from being a member of the last Aggie Fish Band of 1954 and his participation in the Famous Water Fight of 1954. Mitch and Sharon Butler were proud to have been the first married couple as members in the Longhorn Band, The Showband of the Southwest where he played the trumpet and Sharon played the trombone. He later graduated from Sam Houston State Teachers College. Amazingly enough, upon entering Sam Houston State, Mitch did not know how to read music. He had played his way through his childhood and even the A & M and UT bands by ear. He was a quick study, graduated and began his long career in math and music education. His love of music led him to become a band director and all that implies. Among schools where he taught were Ingleside, Aransas Pass, Gonzales, Center Point and Lago Vista.

A patriot for America; Mitch enlisted in the United States Army. There, he served seven years and left the service a veteran with his signature ''give me 9 and a half''. Along the way, Mitch became a pastor, police officer and owner of his own delivery service until he and Sharon retired to enjoy the rest of their days.

Ministry was always a passion for Mr. B. (as he is known to his students). He always looked for opportunities to share the Gospel of Jesus Christ wherever he went. Mr. B. never knew a stranger when it came to spreading the love and word of God through music, fellowship and testimony.
Mitch enjoyed fishing, specifically floundering, he was an excellent marksman, loved to play his trumpet and was the best listener and storyteller.

Always devoted to his family, he was a loving and caring husband and father, who gave it his all. He was a faithful friend and mentor.

Mitch is survived by his son, Mitchell R. Butler and wife, Sarah of Arlington, Texas; daughter, Vonda Camille Butler of Spicewood Texas; daughter, Shara Lea Myers and husband, Cary of Dripping Springs, Texas; son, Walton H. Butler and wife, Julliann of Kingsland, Texas; sister-in-law, Mary Butler of LaGrange, Texas; brother-in-law, Donald Becker of Dallas, Texas. He leaves behind 13 grandchildren, Shanna Myers Ross, Hayden Butler, Macy Myers Phelps, Jason Butler, Tanner Sebesta, Joshua Butler, Zane Myers, Canyon Sebesta, Jane Butler, Simon Butler, Jake Butler, Kyle Butler and Dani-Grace Avalos; 6 great-grandchildren, Sloane Butler, Grady, Blake and Porter Sebesta, Maeve Phelps and Ainsley Sebesta; and numerous nephews, nieces, family and friends.
He was preceded in death by his parents, Hugh and Thyra Butler; brother, David Butler; three sisters, Jean Becker, Loma Butler, and Ethel Butler; his wife, Sharon Leanne Butler; son, Allen Ainsley Butler; and grandson, Trent Allen Butler.

A celebration of Mitch's life will be held on April 30, 2022, at 1:00 p.m. at the Center Point High School New Gymnasium, 207 China Street, Center Point, Texas. Reception to follow at the First Baptist Church of Center Point in the Fellowship Hall, 104 Avenue C.




14 Condolence(s)

Norma Wellborn Wheatcraft
Kerrville, TX
Sunday, May 1, 2022
Mr. B will be greatly missed. Hearts are sadden. Memories. Hugs to all-Prayers to all

Emilio SR , Emilio JR, Nicõle, y Amber Vazquez
San Antonio, TX
Friday, April 29, 2022
From Garms,Vazquez,y Perkins Family we're sorry for your loss.
Mitch will be missed by all he was a Great Christian Man who we are proud to have known.

Cheryl Hahn
Fredericksburg, TX
Monday, April 25, 2022
There isn't enough words to say everything I'd love to say about Mr. B. He was a devoted husband, father, band director, child of God, teacher… I could go on. He will be missed so very much by so many. He also officiated at so many of our weddings of which I know he was so, so proud. He loved directing and playing his horn at the CPHS alumni reunions and joking with us all. I love you, Mr. B! May you Rest In Peace with your dear Sharon.

JD Williams Scott
Kerrville, TX
Monday, April 25, 2022
He was such an awesome man. So patient, I got through algebra with him. He made band fun, with lots of marching practice. I had the pleasure of seeing him again a few weeks ago at Los Dos. You will be missed Mr. B.

Jennifer Sevey Schmitt
Center Point, TX
Monday, April 25, 2022
Mr. Butler was the principal at Center Point when I was in elementary school there in the early 1980's. He was a nice man, but stern with discipline. He showed kindness and compassion when speaking with his students. He definitely left an impression on me. Mr. Butler will be dearly missed.

Debbie Parks
Center Point, TX
Sunday, April 24, 2022
I loved Mr B and always took time to see him while at our land in Lago Vista or when he came to Center Point.
We talked about high school years, my paddlings he gave me, our band trips, and school alumni.
He would call me during our annual July School Reunion in the gym each year and ask was I going to attend and play the drums in the band that day!
He was my H.S. principle that kept me in line, but in the end he was my FRIEND!

Sid Jones
Spring Branch, TX
Sunday, April 24, 2022
Endeared by all who met him.

Jamie Evans
Rocksprings, TX
Sunday, April 24, 2022
He will be greatly missed.

Jean Duke
Lago Vista, TX
Sunday, April 24, 2022
This man was such an important person in my life. Math teacher, music teacher, band director and principal. He honored Mike and I by marrying us on his very own anniversary date with his loving wife Sharon. You touched so many lives, leaving forever memories. RIP Mr. B. 🎵🎵🎵🙏🙏🙏

Karen Curry Graham
Corpus Christi, TX
Sunday, April 24, 2022
Uncle Mickey..you are loved..your spirit will live forever in your family and friends.


Boyce Honea
Corpus Christi, TX
Sunday, April 24, 2022
Mickey was a wonderful Christian man! He truly LOVED JESUS! We were all blessed to know Mickey. Had many family get togethers with Mickey and Sharon. Enjoyed some great floundering nights with Mickey. Condolences, Love and Prayer to all of Mickey's family. Love in Christ. Jimmy Honea(Coach).


Jeanne Shive
Lago Vista, TX
Thursday, April 21, 2022
Sincerest condolences to all the Butler kids.
Our prayers are with you. Love you all.

Iva Gass
Center Point, TX
Thursday, April 21, 2022
Mr. Butler will be greatly missed by all his students he influenced over the years. This world has lost a GREAT man!

Denise R LeMeilleur
Kerrville, TX
Thursday, April 21, 2022
Heaven gained a sweet angel of a man. You will be missed Mr. B.