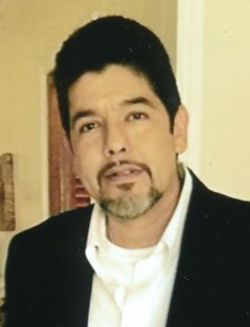 Rosary
Grimes Funeral Chapels
728 Jefferson St.
Kerrville, TX 78028
Thursday, May 5, 2022
6:00 PM
Map & Directions

Funeral Service
Notre Dame Catholic Church
909 Main St.
Kerrville, TX 78028
Friday, May 6, 2022
9:30 AM
Map & Directions


Send Flowers
Garden of Memories Cemetery
3250 Fredericksburg Rd.
Kerrville, TX 78028
Map & Directions


Send Flowers
Jose Ricardo Carrasco
of Kerrville, TX
July 29, 1964 - May 2, 2022
---
Jose Ricardo Carrasco, 57, of Uvalde, Texas, passed away on May 2, 2022 in Kerrville, Texas. He was born in Uvalde, Texas to Joe and Lydia Carrasco on July 29, 1964. He was married to Peggy Muniz.

He went to school at Uvalde High School. He retired from the State Hospital and was currently working at O.W. Lee in Comfort, Texas.

Richard was preceded in death by his father, Jose Carrion Carrasco.

Survivors include his wife, Peggy; his children, Joshua Carrasco and wife, Audrey, Theresa Rodarte and husband, Jesse Rodarte, Jessica Perez; brother, Daniel Carrasco; sister, Irene Carrasco; mother, Lydia Carrasco; grandchildren, Michael Rodarte, Jayden Garcia, DJ Rodarte, Eli Carrasco, Devin Jordan, Sean Carrasco and Ava Carrasco.

Rosary will be 6:00 PM, Thursday, May 5, 2022 at Grimes Funeral Chapels.

Funeral services will be held at 9:30 AM, Friday, May 6, 2022 at Notre Dame Catholic Church with Father Rafal Duda officiating. Burial will follow at Garden of Memories.

Pallbearers will be Ricky Muniz, Michael Muniz, Andrew Muniz, Ruben Hill, Lupe Luna and Juan Deleon.

Honorary pallbearers will be his grandsons, Michael Rodarte, DJ Rodarte, Eli Carrasco and Sean Carrasco.

9 Condolence(s)

Cheryl White
Kerrville, TX
Sunday, February 19, 2023
Wow..💔😪 To the family. My sincere condolences to you all.
I'm so sorry. Richard,😔 a great friend I worked with many years
at the State Hospital. Always smiling and easy going. A joy to be
around always. I don't think I ever called him Richard. It was
"Hey Rasco," or just Rasco. My heart breaks. What a loss.
To the family I pray for your hearts be comforted till you're all
Reunited for Eternity. In Jesus name. 🙏🏿😔

Connie Hill
Uvalde, TX
Saturday, May 7, 2022
My sincere condolences Lydia n Danny .
May God bring you His peace love n comfort.
Hope to see you soon.

Irma Menchaca-Arispe
Kerrville,
Friday, May 6, 2022
Our deepest condolences for your families loss. You are all in our prayers during this difficult time.


Ronald Mancha
Uvalde, TX
Friday, May 6, 2022
My sincere condolences to all the family, prayers to all the family

Ralph Ozuna
Boerne, TX
Thursday, May 5, 2022
My condolence to the Carrasco family. Rest in peace Richard.

Sylvia K Garza
Kerrville, TX
Thursday, May 5, 2022
My Deepest Condolences to you Peggy and Family.

Kitty Carracedo
Boerne, TX
Thursday, May 5, 2022
O W Lee hearts are broken at the loss of one of our dedicated employees. He was a hard worker and a caring person. He was a kind and gentle spirit.
He will truly be missed.

Anselma Delgado
Houston, TN
Wednesday, May 4, 2022
Lydia, May God's Peace be with your family,

Rosemarie Guerrero
Galena Park, TX
Wednesday, May 4, 2022
My sincere condolences to the Carrasco family. RIH