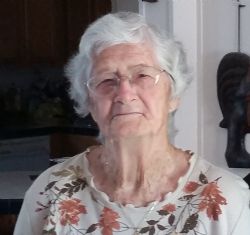 Visitation
Grimes Funeral Chapels
728 Jefferson St.
Kerrville, TX 78028
Monday, May 9, 2022
5-7 PM
Map & Directions


Send Flowers
Funeral Service
Grimes Funeral Chapels
728 Jefferson St.
Kerrville, TX 78028
Tuesday, May 10, 2022
10:00 AM
Map & Directions


Send Flowers
Baldwin Cemetery
Kerrville, TX


Send Flowers
Carmen "Granny" Baldwin
of Ingram, TX
December 31, 1931 - May 5, 2022
---
Carmen Renee "Granny" Baldwin, age 90 years and 4 months, passed away on May 5, 2022, in Kerrville, Texas. She was born in Ingram, Texas, on December 31, 1931, to Minnie G. Smith and John Morris Rotan. She married George W. "Junior" Baldwin on August 1, 1947, in Hunt, Texas.

In 1944, Carmen was baptized in Johnson Creek. She graduated from Tivy High School, continuing her education after her marriage. She loved her family, helping others, fishing, rock collecting, travel and bingo. She was an amazing cook, and many had a favorite dish they would ask her to make.

Carmen was preceded in death by her parents, husband Junior Baldwin, infant son Johnny Baldwin, daughter Ragna Baldwin, and sisters Katherine Culpepper, Joyce Alsup, Faye O'Brien and Jean Cina, and great-grandchildren Dillon and Silas Kuhn.

She is survived by son George "Pete" and wife Roxyann Baldwin of Kerrville, daughters Beth Baldwin of Wyoming and Georgia Fay Knox of Kerrville, sisters Charlotte Jones and Linda Raye Crockett, brother MacT Raye; grandchildren Chad Baldwin and Crystal Carroll, Michael Baldwin and wife Charlie, Billy Joe Kuhn, Dustin Kuhn and Jacob Kuhn, Blake Kuhn, Noah Trevino, Treva Hardiman, Kathy Mitchell, Chasity Cox and husband Jesse McElhaney, Eric and wife Katelyn Cox, fourteen great-grandchildren and two great-great-grandchildren. Carmen also had many nieces and nephews, especially Sherry Pena who devoted much love and time caring for Carmen.

Visitation will be held 5pm-7pm Monday, May 9 at Grimes Funeral Chapels, Kerrville, Texas. Funeral services will be held 10 am Tuesday, May 10 at Grimes Funeral Chapels, with DeWayne Smith officiating. Burial will follow at Baldwin Cemetery, Hunt, Texas.

Pallbearers will be Chad Baldwin, Blake Kuhn, Noah Trevino, Mario Trevino, Gary Gobert, and Jimmie Lee McGehee, Jr.

The family wishes to extend our sincere thanks to Dr. Garre, Dr. Melucci, and the Sid Peterson Hospital staff, especially in the ICU.




6 Condolence(s)

Shirley Brook
Florence, TX
Saturday, May 14, 2022
Aunt Carmen worked hard all her life. She welcomed the weary into her home. Was an amazing cook. How many of us have sat at her table? Begged for more creamed corn, chocolate chip cookies, oatmeal drop cookies, peach cobbler, etc. She and Uncle Junior, Johnny and Ragna are together again, along with so many others gone before. RIP, a job well done.

David Erwin Bell
Wake Forest, NC
Tuesday, May 10, 2022
May the Lord be blessed by her presence in His kingdom; may the loving family be blessed with His grace, mercy and peace. May the Lord continue to bless and keep each and theirs! Rest in his Peace Carmen.

Jacob Kuhn
EVANSVILLE, WY
Tuesday, May 10, 2022
We have lost an amazing woman and our hearts are filled with sorrow and sadness but heaven has gained an amazing angel

Sherry Fisher
Kerrville,
Sunday, May 8, 2022
I cherish the memories of this wonderful lady. Many hearts carry love for her. She was blessed to be a blessing

Terry Goodman
Kerrville, TX
Saturday, May 7, 2022
May God wrap is arms around her loved one.
She was my great aunt and was always good to me.
She always worked so hard . She earned her wings.

Treva Hardeman
Kerrville, TX
Saturday, May 7, 2022
I will carry you in my heart always. Love you!