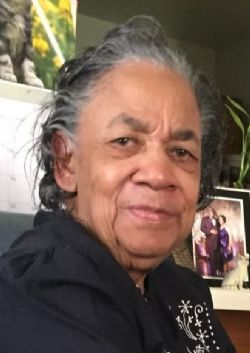 Visitation
Grimes Funeral Chapels
728 Jefferson St.
Kerrville, TX 78028
Friday, May 13, 2022
5-7 PM
Map & Directions


Send Flowers
Funeral Service
Grimes Funeral Chapels
728 Jefferson St.
Kerrville, TX 78028
Saturday, May 14, 2022
1:00 PM
Map & Directions


Send Flowers
Eleanor Eloise Benson
of Kerrville, TX
August 31, 1933 - May 5, 2022
---
The late, great, Whitney Houston said it best . . . ''I found the greatest love of all, inside of me.'' Eloise demonstrated the love inside of herself to all she knew. Aunt Weeta's greatest gift was her love for everyone.

On August 31, 1933, Eleanor Eloise Benson was born in Austwell, (Refugio County) Texas to Sidney Lewis and Charlie Bernice Mitchell Lewis. In 1942, at the age of nine the family moved to Kerrville where she underwent treatment for tuberculosis at the Kerrville State Sanatorium. At an early age, she became a member of Mt. Olive Baptist Church under the leadership of Rev. C. V. Everage and remained an active member with Rev. Noah F. Diggs, up until her death on May 5, 2022.

Eloise graduated from Doyle High School then went on to receive her Associates degree in Nursing from St. Phillip's Jr. College in San Antonio, Texas. Her kind, loving nature aided in a successful, long-time career at Sid Peterson Memorial Hospital.

She was preceded in death by both of her parents; her loving siblings, Olivia, Joe, and Wilfred; her daughter, Janice Carlene Benson-Thomas; and two sons-in-law, Arthur Thomas and James Daniel.

She leaves to mourn, her daughter, Cheryl Ann Benson-Daniel (Nikki); three grandsons, Nelson White, Karlton Benson, and Landon Floyd; four great-grandsons; two granddaughters; one great- great-grandson; one great-great-granddaughter; one aunt, Hortense Mitchell-Huff; one sister-in-law, Sylvia; one brother-in-law, Clarence; and a host of nieces and nephews.

Eleanor Eloise 'Aunt Weeta' will be missed, but we smile at the joy of her family reunion in Heaven.

Visitation will be held from 5-7 PM, Friday, May 13, 2022 at Grimes Funeral Chapels.

Services will be held at 1 PM, Saturday, May 14, 2022 at Grimes Funeral Chapels, officiated by Rev. Noah F. Diggs.


4 Condolence(s)

Vincent Sr/Carolyn Moore
Dale, TX
Tuesday, May 17, 2022
Heartfelt condolences and prayers to Sis. Olivia Simples and the Benson Family for your dear Auntie Eloise (Weeta) Benson. " Precious is the sight of the Lord is the death of his saints." Psalms 116:15 MZBC family in Austin, Texas.

Dora Daniels
Flint, MI
Friday, May 13, 2022
My condolences to the family

Marlon Goodloe
Giddings, TX
Monday, May 9, 2022
Our sincerest condolences and prayers go out to you and your family!!

Marlon (Jocko) Goodloe and the Goodloe Family

Tim and Wanda Benson
Kerrville, TX
Friday, May 6, 2022
Our condolences to the family!
Tim and Wanda Benson!