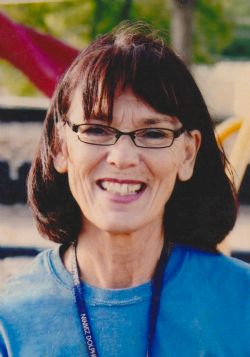 Visitation
Grimes Funeral Chapels
728 Jefferson St.
Kerrville, TX 78028
Friday, June 10, 2022
5-7 PM
Map & Directions


Send Flowers
Celebration of Life
Kerrville Church of Christ
1900 Loop 534
Kerrville, TX 78028
Saturday, June 11, 2022
2:00 PM
Map & Directions


Send Flowers
Gwynne Fikes
of Kerrville,
June 23, 1949 - June 8, 2022
---
Our family sadly lost a wonderful beacon of joy and light on June 8, 2022. Sarah Gwynne Fikes, our GiGi, left this world peacefully, surrounded by family and friends in her home in Kerrville, Texas.

Gwynne was born on June 23, 1949 in Kerrville, Texas to Raymond and Louise LeMeilleur. Gwynne was a member of the Tivy High School graduating class of 1967 and received a degree in Elementary Education from Southwest Texas State University. Gwynne served as a first grade teacher and mentor for 38 years.

Gwynne is survived by her beloved husband of 53 years, Steven Rayburn Fikes and her two sons and their wives: Wesley James and Tricia Fikes of Tomball, Texas and Christopher Ray and Tonya Fikes of Boerne, Texas. She leaves behind six grandsons: Corban Scout, Samuel Austin, Esan Ray, Micah James, Teagan Race, and Solan Meyer. Gwynne also leaves behind her little brother, Jimmy LeMeilleur and his wife Gayle of Fort Worth, Texas and big sister and incredible care taker, Bonnie Ward and her husband Hillyer of Mountain Home, Texas. She also leaves behind numerous, dearly loved nieces, nephews, cousins, adopted Aggies, teaching buddies, and Christian brothers and sisters in Ghana and Thailand.

Gwynne is preceded in death by her parents, Charles Raymond Sr. and Etta Louise (Graham) LeMeilleur and her brother, Charles Raymond LeMeilleur Jr.

Visitation will be on Friday, June 10th from 5pm-7pm at Grimes Funeral Chapels, 728 Jefferson St. Kerrville, TX 78028.

Celebration of Life will be on Saturday, June 11th at 2:00 p.m. at the Kerrville Church of Christ.

Gwynne loved to encourage others and she did - not just locally, but all over the world. Her love for others carried her to the kitchen of Camp of the Hills in Marble Falls, the swimming pool in Ann Robertson's backyard, the classroom of the Bazua Christian Academy in Ghana, a medical camp in Belize, all over Northern Thailand making memories with her grandsons, the Bible classroom at church, 38 years in her first grade classroom, and on her back porch.

In lieu of flowers, please send donations for the Bazua Christian Academy to the Kerrville Church of Christ and add the memo: Ghana Missions in memory of Gwynne Fikes.


27 Condolence(s)

George R Carr
New York City, NY
Sunday, June 26, 2022
Forever…

Louise Homilius
Comfort, TX
Tuesday, June 14, 2022
Gwynne, a beautiful person with the sweetness of an angel. Everyone who knew her loved her. To her family, especially Steve, Wesley, and Christopher, I send my heartfelt sympathy.

Susan Brogdon
San Antonio, TX
Tuesday, June 14, 2022
My brother, sister, and I grew up across the street from the LeMeilleurs and have many wonderful memories of Gwynne and her lovely family. We all spent many hours at their home, playing board games. We put on a circus and a Halloween haunted house in our backyard. Gwynne was also our babysitter, who showed us kindness, and warmth, and humor. She was that rare individual, as beautiful on the inside as outside. We mourn her passing and send the FIkes/LeMeilleur families our love and consolation. Peace to her and all who loved her.

Deb Maclin
Ft worth, TX
Monday, June 13, 2022
Uncle Steve and family our thoughts and prayers are with you all, James and Misty Gober and their families and Deb and Douglas Maclin

Deb Maclin
Ft worth, TX
Saturday, June 11, 2022
Uncle Steve and family our thoughts and prayers are with you all, James and Misty Gober and their families and Deb and Douglas Maclin

Diann Napper
Kerrville,
Friday, June 10, 2022
Prayers for your family

Darla Pfiester
Kerrville, TX
Friday, June 10, 2022
So many will remember this beautiful person. Her soul was made by God for all to see. What a pleasure to teach with her. Her boys were her life for many years. Then her grandkids. Her smile could light a room. Thank you for the memories. I wish I could be there to hug everyone. I'm out of town and know I'm thinking of all of you. Love, hugs and kisses. Darla

Betty Graham
Carrollton, TX
Friday, June 10, 2022
You are all in my thoughts and prayers. Gwen fought an amazing batter just as she was an amazing woman.
Much love to the family.

Donna (Giles) Rogers
Houston, TX
Friday, June 10, 2022
I am so grateful and blessed to have been influenced by this graceful and fun Christian lady during my teen years. She and her sons were such a blessing to my life. Much love and prayers of peace to the Fikes and LeMeilleur families.

June Morgan Grayson
Beach City, TX
Friday, June 10, 2022
Gwynne, who was loved by so many, lived a life of service and giving to those around her, and loved her LORD so.
May many seeds be planted, and lives saved eternally through the the passing of such a life as hers.
May the Lord hold you all so closely. I'm so sorry.
May He bless and give you comfort

Connie LaFrance
Floresville, TX
Friday, June 10, 2022
That should have been Tivy Elementary —
NOT Toby!!!

Rose Morrow Schroeder
Garland, TX
Friday, June 10, 2022
G grace
W winning smile
Y youthful
N nice to everyone
N not afraid to try new things
E energetic

I cannot remember when I did not know Gwynne. I know her heavenly family is thrilled to welcome her home, but her earthly family wanted so badly to keep her. I will never again hear II Timothy 4:7-8 without thinking of her valiant fight. I want to thank Bonnie for selflessly answering the call to care for Gwynne so steadfastly.

Donna Jefferson
Kingsland, TX
Friday, June 10, 2022
I've know Gwynne and her family for several years. We lived in Kerrville and went to church with them before we moved to Austin. And then I had the privilege to reconnect with her at Camp of the Hills. She had such a loving spirit and a heart for others. She modeled Jesus in everything she did. My sincere condolences to all of her family and friends.

Jackie Carman
Boerne, TX
Friday, June 10, 2022
Chris and family,
We are so sorry for your loss. Gwen was such a sweet person and always smiling. Keeping you all in our thoughts and prayers.
In Him,
Jackie

Cydney Swindle Tuten
St Petersburg, FL
Friday, June 10, 2022
Mrs. Fikes truly represented what it meant to be the hands and feet of Jesus! Not only to she serve her family and community, she served the world! She was a beautiful person inside and out. I'm so sorry for your loss!

Andrew Cummings
FRAMINGHAM, MA
Thursday, June 9, 2022
Mrs Fikes Was Best Teacher To Be There For Her Students & Fellow Teachers & School She Will Always Be Remembred As Beacon Is Hope And Greatness & Most Of All She Always Said To Keep on Smileing & Make Each & Everyday The Best Of Everything And Most Of All She Made Learning Fun & Simple And Always Gave Back To Community & She Always Was There Class & Family I Was Always Pleased To Call My Teacher & Friend She i Looking Down From Heaven And Saying "Keep On Smileing its Going Good Day" Soon Again Mrs Fikes Thank For Being My Teacher & Friend

Cathy moretich
Kerrville, TX
Thursday, June 9, 2022
Gwynne was a very dedicated teacher who loved her students. I'll be missed terribly.

Julie Hamilton
Kerrville, TX
Thursday, June 9, 2022
I worked with Gwynne at Nimitz Elementary. She loved her children. Well done good and faithful servant.
See you again soon.
Julie Hamilton

Rhonda Davison
Kerrville, TX
Thursday, June 9, 2022
We had the privilege of having both our children in Mrs Fikes 1st grade class. She was an amazing, patient & caring person who made a difference in so many lives. She will be forever remembered.

Mary Ann Arreguin
San Antonio, TX
Thursday, June 9, 2022
So many wonderful memories walking the hills of Kerrville, advising each other on raising our children, our Trek adventure, teaching school and VBS, exercising, and most importantly sharing our faith. I rejoice for your presence with our beloved Heavenly Father and Jesus.

Bill Stacy
Kerrville,
Thursday, June 9, 2022
So sorry to learn of Gwynne's passing. Prayers to you Steve and family.

Connie LaFrance
Floresville, TX
Thursday, June 9, 2022
What a wonderful teaching team we had —
for about 15 years, I think! (Gwynne, Julie Heinen,
Cheryl Armstrong, Connie Sralla, and myself).
We even all finished up Toby Elementary and
opened up the brand new Nimitz Elementary.
I'll always treasure those years when our own
kids were young and grew up together. I
remember sitting on the front porch of your
old house visiting and eating ice cream. Chris,
you had to have your mom stir up your
chocolate syrup and vanilla ice cream. I
always wondered if you ever learned to do it
by yourself. LOL. Wesley, your mom was always
bragging about you! Please know that my
thoughts and prayers are with all of you.
Rest In Peace, my dear sweet friend!!!

Kari Gruver
Kerrville, TX
Thursday, June 9, 2022
You were an inspiration to so many first graders and to all who were privileged to teach with you. Your spirit, energy, love, and nurturing were never ending. Thank you for sharing your faith, love of Christ, and love for others with me.

Kathy Morrow Ingram
Kerrville, TX
Thursday, June 9, 2022
Dear Family,
I've known Gwynne , her parents and her siblings all my life. I've always looked up to Bonnie and Gwynne as role models. Our families grew up together in the same church. In 1980 I started keeping Chris and Wes, two sweet active little boys along with a cousin and little church friends until they were preschool age. We stayed most of the time at Gwynne's. I'm so thankful to have had this sweet lady in my life and she will be missed. Hugs and Prayers for family ,
Love Miss Kathy.

Joann
Fort Worth, TX
Thursday, June 9, 2022
My sweet Auntie Gwynne, I love you so much!!! You fought a good fight all the way to the end. I will see you again one day! 143

Janice Locke Griffin
Uvalde, TX
Wednesday, June 8, 2022
Dear family of my sweet friend, Gwynne. My heart is so broken over losing such a special person in my life. I know she is healed
and with Jesus. She fought such a brave fight for so long. Bonnie you will always be my hero. You were always there for her and lifting us up with scripture. Please
Please know I love all of you and am praying for the peace that only God can provide❤️❤️❤️🙏🙏🙏


Joann
Fort Worth, TX
Wednesday, June 8, 2022
My sweet Auntie Gwynne, I love you so much!!! You fought a good fight all the way to the end. I will see you again one day! 143