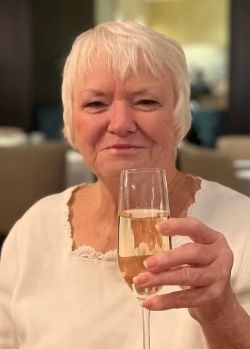 Memorial Service
Grimes Funeral Chapels
728 Jefferson St.
Kerrville, TX 78028
Friday, June 17, 2022
1:00 PM
Map & Directions


Send Flowers
Sonjie Gail Thomas
of Georgetown, TX
January 15, 1948 - June 9, 2022
---
Sonjie Gail Thomas, at 74 years old, left this earthly realm on June 9th, 2022 in Round Rock, Texas with all of her children by her side. She was born on January 15, 1948 in Pampa, Texas to her late parents Marie Barclay and TS Barclay. She grew up in Plainview, Texas. She spent most of her adult life in Kerrville, Texas where she raised her children. Her remaining years were spent in Georgetown, Texas.

Sonjie fought a long and tough battle with various health issues. It would be wrong to say that Sonjie lost her battle because she never stopped fighting. No matter how sick she was, she was always determined. When anyone else would have broken, Sonjie stayed strong. Through her, we know what resilience and perseverance truly looks like. There was no quit in Sonjie. Just because she is no longer here, it doesn't mean she lost her fight.

Sonjie was the most unconditionally loving, selfless, and devoted mom and grandmother ''Meme'', and a fierce friend to so many. She touched so many people's hearts. She devoted over 20 years working for the Kerrville State Hospital. Some of her passions were sewing and quilting but her favorite thing to do was spending time with her family and friends. Sonjie loved sharing old stories with her children and grandchildren.

She was preceded in death by her parents Marie and TS Barclay; sister Karen Barlow; and nephew Kirk Gearhart.

Sonjie is survived by her three children, the loves of her life, two daughters, Konia Ligon of Portland, Texas; Kayce Ruis and her husband Ray Ruis of Pflugerville, Texas; son, Kolby Thomas and wife Amanda Thomas of Bertram, Texas. Her grandchildren, who were her pride and joy, Kody Roberts, Kyle Roberts, Kurt Roberts, Ryann Ruis, Sterling Ruis, Taylor Thomas, Wesley Garringer, and Hayley Garringer. Also, her nieces, Kim Beal and Kelli Zahn, who she adored and countless other family members and friends.

Services will be held at Grimes Funeral Chapels in Kerrville, Texas on Friday June 17, 2022 at 1 pm. All are welcome. Her ashes will be scattered at a future date.

Condolences may be sent at www.grimesfuneralchapels.com.

Funeral arrangements are entrusted to Grimes Funeral Chapels of Kerrville.


4 Condolence(s)

Michael R. Van Winkle
Colorado Springs, CO
Wednesday, June 22, 2022
My Condolences to all the family and friends of Sonje. My wife, Sammie & I worked with Sonje at KSH. Her warm smile, kindness and comforting words and presence will always be remembered. Her courage and supportive manner was a blessing to this disabled staff member. May the Peace of The Lird Be With You All.

Connie Valenzuela
San Angelo, TX
Saturday, June 18, 2022
I had the privilege of meeting her while working at KSH. She was very sweet lady. Always had a smile. Soar with the eagles.

Donan & Taylor
Round Rock, TX
Friday, June 17, 2022
We miss you sweet MeMe! Taylor will always be reminded of how very much you loved him. How great your hugs were and proud you were of him. He thinks of you when he plays the piano and is so happy he got to play for you! Taylor knows he has a new guardian angel!
You will never be forgotten and some day we will meet again in heaven!

Love you bunches!

Nick Blaylock
Mineola, TX
Monday, June 13, 2022
Konia, Kayce and Kolby, we are so sorry for your loss. Please accept our prayers and condolences.

The memories I have of Sonjie and the family reunions down on the river are epic and bring back some of the best times of my life. The extended family had so much fun together that it should have been illegal. Those memories will forever be with us, and they are priceless.

God bless each of you and all the others that will so dearly miss her.

Nick and Dawn Blaylock