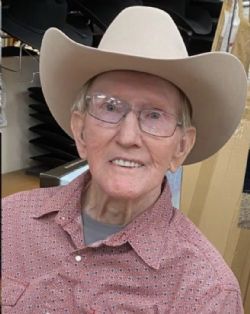 Graveside
Center Point Cemetery
Center Point, TX 78010
Saturday, June 18, 2022
10:00 AM


Send Flowers
Guy Eugene Powell
of Center Point, TX
June 10, 1929 - June 12, 2022
---
Guy Eugene Powell, 93, of Center Point, went home to be with the Lord after a brief illness. He loved his Lord Jesus Christ, and we take comfort in knowing he is now forever with him.

Guy was born and raised on the Powell Family Ranch on Elm Pass Road in Center Point. At the age 21, Guy started working for the Border Patrol between 1950-1953, in Brownsville, Texas. He was very proud of his time on the Border Patrol, riding horseback and patrolling the border on his horse, Nelly. After his time with the Border Patrol, he joined his father and brother working in the family Feed Mill in Center Point. Later, he became a feed nutritionist and was very well known and sought after for feed formulations. In 1980, Guy decided to start up his own feed store in Center Point, Powell Feed. Guy's wife, Bobbie, kept the books for the store. Guy formulated the horse feed, had it produced and sold it out of a barn behind his house. The horse feed is still being produced and sold today. If his customers couldn't get there during regular hours, he would use the honor system. You get what you want and write it down. Pay now or later. He loved his customers and enjoyed the many stories that were shared. Guy worked very hard all of his life and was a compassionate family man. His many stories will be kept close to our hearts.

Guy was born to Vernon and Ella Powell and had 7 siblings: Morris, Wanda, Lois, Melba, Mildred, Vernon and Doris Edna. Guy married Bobbie Jean Lackey, August 31, 1950 in Center Point. She was the love of his life. They had 3 children: Larell, Robert and Marilyn. He was preceded in death by his wife, Bobbie; his children, Larell and Robert; granddaughter, Heather; and great-grandson, Colton; parents and siblings.

Survivors are his daughter, Marilyn Swyers and husband Bill; daughter-in-law, Patsy Powell; grandchildren, Danny Langbein and wife, Mandy of Kerrville, Jim Hurst of Hunt, Jennifer Powell of Liberty, Texas, Will Swyers and wife, Angela of Boscawen, New Hampshire, and Shea Swyers of Center Point; great-grandchildren, Shelby, Caden, Christina, Seth, Edie, Emmie, Kayley and Tyler; and numerous nieces and nephews. Also, a very special and compassionate niece, Kim Crawford and two very special loved ones that kept joy and laughter in his life, Melinda Contryman and Walter Carson.

Pallbearers that meant so much to him: his nephews, Danny Smith, Bill Holloway, Raymond Holloway, Clay Powell, Chuck Storms and Larry Powell. Honorary pallbearers, Doug Smith, Dennis Brown and Ken Powell.

Graveside services will be at Center Point Cemetery at 10:00 am, Saturday, June 18, 2022.

Family asks that in lieu of flowers, donations be made to Center Point Volunteer Fire Department.


4 Condolence(s)

Pamela King
Kerrville, Texas 78028, TX
Saturday, June 18, 2022
Dear Family of Guy Powell,

Please accept my sincerest condolences on the loss of Guy. Alan and I looked forward to visiting him every other Saturday at his home feed store to buy supplies for our many animals. Alan and he would exchange hunting stories and just enjoyed each other's company. I remember him standing in the loading dock at the new store at the celebration held before Bobbie's death and him looking out on the expanded operation and smiling at what the Powell operation had become under Danny's care and management. He and Bobbie were a tradition in Center Point, good people and will be very much missed.

Very Sincerely,
Pam King

TJ Beaver Engers
Kerrville, TX
Thursday, June 16, 2022
God bless your family as they lay you to rest! RIP Guy!!!

David and Autumn Risner
Center Point, TX
Thursday, June 16, 2022
So sad to hear about Guy passing. We started buying feed for our horses in 2001 from guy. We used to love to sit and listen to his stories, especially the ones from the border patrol. We had rescued a couple of horses that were absolutely skin and bone. Guy fixed us up a formula for the two horses a stallion and a mare and unbelievably, both horses were caring healthy weight in three months! He was amazing in his knowledge of feeding animals properly. We will really miss his stories and being able to visit with him. Our deepest condolences to his family.

Paul Urban
Harper, TX
Wednesday, June 15, 2022
My deepest sympathy.

They just don't make many like Guy. Soft spoken, hard working, friendly, devoted to family and community, I could go on and on, he was just a good guy.

I was fortunate to know him, have him as a customer but more importantly, to call him my friend.

May the Good Lord's peace surround and comfort the family.