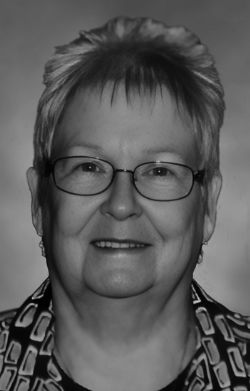 Celebration of Life
Grimes Funeral Chapels
728 Jefferson St.
Kerrville, TX 78028
Saturday, June 25, 2022
10:00 AM
Map & Directions


Send Flowers
Sherry Kay Milligan
of Ingram, TX
January 4, 1945 - June 13, 2022
---
Sherry Kay Milligan, 77, of Ingram, Texas, passed away peacefully surrounded by family on Monday, June 13, 2022, after a long battle with Pulmonary Fibrosis. Sherry lived a beautiful life full of the things that matter most. Her love for Jesus, her husband of more than 50 years, her children (4), grandchildren (23), great-grandchildren (15), and dog, Buttercup.

Sherry was the type of woman who always had room in her home and heart for anyone in need. She was kind and found the good in everyone she met. She had the capacity to forgive unconditionally and fiercely protect those she loved.

She was many things to many people: Wife, Mom, GG, Silly Grandma, and Child of God. Sherry had a flair for style and would surprise you with ever-changing hair color. In fact, she married Tom with orange hair! She had a sparkle in her eyes, was unapologetically silly, and made the people around her laugh.

Sherry Kay Milligan was born on January 4, 1945, in Mineral Wells, Texas. She met her husband, Thomas Milligan, in Austin, Texas, and they married on March 14, 1969. Tom and Sherry raised their children in and around Austin, Texas, and Corpus Christi, Texas. The couple retired in Ingram, Texas, in 2012.

Sherry was preceded in death by her father, James Cluck; mother, Lucy Cluck; and sisters, Nancy Wester and Paulette Sellers.

Survivors include her husband, Thomas Milligan; her children, Tammy Jones (Chris), Tracy Wolfe, TJ Milligan (Cherie), and Penny Slack (David); her grandchildren, Andie Plunkett (Paul), Meagan Wilson (Allen), Lorrie Rapp (Eric), Brandy Kinchen (Grant), Weston Wolfe (Shay), James Sullivan (Gwyn), Brandon Milligan (Samantha), Justin Milligan (Lauren), Jayson Milligan (Chelsea), Cody Mitchell, Ashley Slack (Stephen), Paige Slack, and Dalton Slack; her great-grandchildren, Maddy Wilson, Henley Wilson, Lilly Plunkett, Gavin Plunkett, Mia Rapp, Bowen Wolfe, Madison Kinchen, Presley Kinchen, Andrew Milligan, Cowen Sullivan, Brooke Sullivan, and two babies are due in September; and her brother, David Cluck.

A Celebration of Life will be held at 10:00 AM on Saturday, June 25, 2022 at Grimes Funeral Chapels of Kerrville (728 Jefferson St., Kerrville, Texas 78028), with Mike Burroughs officiating the service.

A potluck luncheon will follow the service at Living Waters Church, 108 Aqua Vista Drive, Kerrville, Texas.

The family wishes to extend our sincere thanks to Kindred Hospital in San Antonio, Texas, Four Seasons Hospice, Grimes Funeral Chapels, Living Waters Church, and Pastors Mike and Tammy Burroughs for your kindness and support during this difficult time.


2 Condolence(s)

Matthew Maiden
Corpus Christi, TX
Monday, June 20, 2022
My thoughts & prayers are with the entire Milligan
family..Sherry was always my favorite singer growing
up in church..her beautiful booming voice matched
her personality perfectly..some of my fondest memories
are with the Milligan family..memories I have and will
forever cherish..

Kathryn Lott
Pflugerville, TX
Monday, June 20, 2022
I cherish the many wonderful memories I have withSherry. She was one of my best friends and was always so kind and always one you could share your thoughts and feelings with. I will truly miss her and all our times on the phone together, I know she is in a better place and I look forward to joining her there someday. My love and pray are extended to all her family.