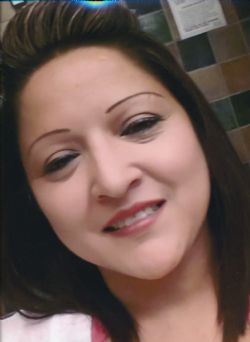 Visitation
Grimes Funeral Chapels
728 Jefferson St.
Kerrville, TX 78028
Monday, June 20, 2022
5-7 PM
Map & Directions


Send Flowers
Funeral Service
Grimes Funeral Chapels
728 Jefferson St.
Kerrville, TX 78028
Tuesday, June 21, 2022
10:00 AM
Map & Directions


Send Flowers
Garden of Memories Cemetery
3250 Fredericksburg Rd.
Kerrville, TX 78028
Map & Directions


Send Flowers
Rachael Ann De La Cruz
of Kerrville, TX
August 5, 1975 - June 15, 2022
---
Rachael Ann De La Cruz of Kerrville, went to be with the Lord on June 15, 2022 in her hometown of Kerrville. She was born in Kerrville to Leonardo and Olga Ramirez on August 5, 1975. She married Jacob De La Cruz on July 13, 2012, in Kerrville.

She attended Tivy High School and Conlee's College of Cosmetology. She worked as a hairdresser for many years. Rachael later began her career in the restaurant industry, where she was a server for many years. Rachael was a social butterfly and enjoyed meeting new people and chatting up a storm. These last few years, Rachael decided to take a break from the food industry. She opened her own residential cleaning company, "Keeping it Clean by Rae." Rachael's love for her children was like no other. Her grandbabies meant the world to her. Everyone who knew Rachael can testify to her goofy, outgoing and loving personality. Rachael was blessed with a huge family who loved her dearly.

Rachael was preceded in death by her father, Leonardo (Kireno) Ramirez; and brother, Jose Jesus Medrano.

Survivors include her husband, Jacob De La Cruz of Kerrville; parents, Frank and Olga Clark of Kerrville, and Jimmy and Alice Delgadillo of Kerrville; adopted father, Jose Inacio Medrano of Rocksrpings, Texas; sisters, Kristie Valdez and Silverio Cellar III of Kerrville, Evangelina Medrano and Jose Angel Hernandez Jr. of Kerrville, Ida Casillas and Joe Flores of Corpus Christi, Texas, Adrianna and Alejandro (Alex) Sanchez of Fort Worth, Texas, Amy Espinoza of Kerrville, and Nina Delgadillo of Kerrville; brothers, Alex Constante Jr. of Kerrville, James and Amy Delgadillo of Kerrville, Christopher and Jessica Delgadillo of Rockwell, Texas; children, Edward Ramirez and Veronica Ruiz, Jesse Garza and Dimitri Lopez; grandchildren, Karlee, EJ and Aurora.

Visitation will be 5PM-7PM, Monday June 20, 2022, at Grimes Funeral Chapels.

Funeral Services will be held at 10AM, Tuesday June 21, 2022, at Grimes Funeral Chapels with Kathleen Maxwell-Rambie officiating. Burial will follow at Garden of Memories Cemetery.

Pallbearers will be her husband, Jacob De La Cruz; son, Jesse Garza; cousin, Tony Valdez; brothers, James Delgadillo and Christopher Delgadillo; nephews, Andrew Aguero and Elijah Hernandez; and close friend, Barry Aubrey.

The family wishes to extend a sincere Thank You to everyone who was by her side and extended a helping hand during Rachael's journey.

Condolences may be sent at www.grimesfuneralchapels.com.

Funeral arrangements are entrusted to Grimes Funeral Chapels of Kerrville.