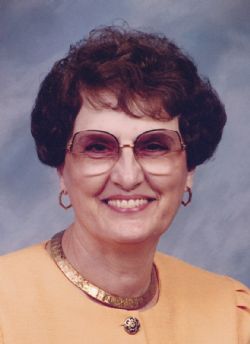 Visitation
Grimes Funeral Chapels
728 Jefferson St.
Kerrville, TX 78028
Friday, July 22, 2022
6-8 PM
Map & Directions


Send Flowers
Graveside
Garden of Memories Cemetery
3250 Fredericksburg Rd.
Kerrville, TX 78028
Tuesday, July 19, 2022
2 PM
Map & Directions

Memorial Service
First United Methodist Church
321 Thompson Dr.
Kerrville, TX 78028
Saturday, July 23, 2022
10:00 AM
Map & Directions


Send Flowers
Eleanor Irene Toops
of Kerrville, TX
September 19, 1939 - July 13, 2022
---
Eleanor Irene Toops, 82, of Kerrville, Texas passed away Wednesday, July 13, 2022 in Kerrville. She was born in Andalusia, Alabama on September 19, 1939, the only child of Dewey Vernon Beaube and Audrey Baggett Beaube.

She graduated from Pensacola High School in 1957 and worked as the church secretary at First United Methodist Church in Pensacola from the time she graduated until she married a few years later. She married Navy Lt. Commander Paul Edwin Toops on December 19, 1964 in Pensacola, Florida. She was a housewife and stay-at-home mother to their three children, Lisa Lynn, Eric Vernon, and Lesley Ann, and was actively involved in each of her children's lives and activities during their growing-up years. She later worked at the Texas Lion's Camp in Kerrville for many years and received the Melvin Jones Fellowship award in 1993 from the Lions Club International Foundation. She then worked as a church secretary at Southern Oaks Baptist Church in Kerrville before retiring to be a full-time wife to Paul and grandmother to her four grandchildren, Hannah, Ryan, Drew, and Claire.

She was known for her cheerful, friendly personality, her love for others, and her servant-hearted, sacrificial, giving spirit. She loved her Lord and Savior Jesus Christ, loved people, loved playing the piano and organ, loved her family and her friends, and loved her church. She and Paul were actively involved in their church and Sunday School class and often sang specials together at church. In addition, Eleanor was a Lay Leader, served on the Pastor Parish Relations Committee, and managed the church prayer chain for many years. She will be greatly missed by all those who deeply loved her.

She was preceded in death by her parents, D.V. and Audrey Beaube. Those left to honor and cherish her memory include her husband of 57 years, Paul Toops; daughter, Lisa Milstead and husband Heath of Jacksonville, Texas; son, Eric Toops of Kerrville; daughter, Lesley Toops and fiancé Brad Shaffer of Irving; granddaughters, Hannah and Claire Milstead; grandsons, Ryan and Drew Milstead; and numerous beloved extended family members.

A small graveside service will be held at 2pm Tuesday, July 19, 2022 at Garden of Memories Cemetery with Dr. Joe Taylor officiating. Visitation will be from 6-8 pm Friday, July 22, 2022 at Grimes Funeral Chapels, and a memorial service to celebrate her life will be held at 10am Saturday, July 23, 2022 at Kerrville First United Methodist Church with Rev. David Payne officiating. A small reception will follow.

In lieu of flowers, memorials may be made to any of the following in Eleanor's honor: Peterson Hospice, San Antonio Lighthouse for the Blind, or Hill Country Youth Ranch.




5 Condolence(s)

Lola Jacoby
Ingram, TX
Thursday, July 21, 2022
Dear Leslie
I just learned today of your mother's passing and I so deeply sorry for your loss. Your mother was a very sweet lady. Praying for peace for your family. She is an angel and in the loving arms of our Savior.

Joey Maldonado
Hondo, TX
Wednesday, July 20, 2022
Mrs. Toops was always so benevolent and loving toward me while growing up. She always welcomed me into your home and made me feel loved, accepted, and safe. I have so many warm memories of her. My heart is with you during this time of sadness. My sincerest condolences on your loss of such a wonderful, beautiful person.

Darrell Arms
Killeen, TX
Tuesday, July 19, 2022
I will never forget seeing Aunt Eleanor for the first time. Uncle Paul brought his bride to my Aunt Dorothy's near Kahoka MO. She was a gradiently beautiful Southern belle with charm, humor, and joy. As a 13-year-old boy, I knew our family's lives wAunt Eleanor has never ceaased to bless us with her grace, compassion, wit, and wisdom. Her faith has been a catalyst for hope and determination. I thank God and my Uncle Paul for bringing us the many gifts that Aunt Eleanor embodied.
Aunt Eleanor, I tried to get back to Texas in time to be with you a little longer, but I do not begrudge Christ for rescuing you from this world. I know just where to find you atthe end of my journey. I will always love and admire you!

Melissa Steiner
Kerrville, TX
Tuesday, July 19, 2022
I'm so sorry for your irreplaceable loss. I pray God's peace will and love will fill you; and, His strength uphold you today and all the days to come. With love, in Christ Jesus!

Linda
Kerrville, TX
Monday, July 18, 2022
May God continue to comfort all of you. How wonderful to know that she is now with Jesus.