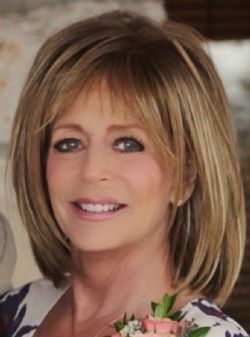 Visitation
Grimes Funeral Chapels
728 Jefferson St.
Kerrville, TX 78028
Monday, July 18, 2022
5-7 PM
Map & Directions


Send Flowers
Graveside
Garden of Memories Mausoleum
3250 Fredericksburg Rd.
Kerrville, TX 78028
Tuesday, July 19, 2022
9:30 AM
Map & Directions


Send Flowers
Janice Louise Smith Williams
of Kerrville, TX
February 23, 1957 - July 13, 2022
---
Janice Louise Smith Williams of Kerrville, passed away on July 13, 2022 in San Antonio. She was born in Corpus Christi, Texas to Stoner C. Smith, Jr. and Mary Elizabeth (Boales) Smith on February 23, 1957. She married Frank Williams on July 19, 1997 in Kerrville.

She graduated from Pettus High School. She worked for many years as a law clerk and later worked in Memory Care.

She was preceded in death by her parents; grandparents; father and mother-in-law, Elmer and Mary Williams; a niece, Kimberly Chesnutt; and nephew, Clayton Jones.

She is survived by her husband, Frank Williams; son, Terry Winston (Kaela); grandsons, Cooper and JC Winston; four step-children, Kyle Williams, Clifton Williams (Summer) and their children, Garrett, Zoey, Grayson and Bridger, Kevin Williams and sons, Rush, Corbin and Autrey, Heidi Williams (Slate) and children, Lawson, Liberty, London and Lucian; three sisters, Dolores Smith, Diane Chesnutt and Jackie Jones; two nieces, Missy and Morgan; one nephew, Will; and numerous relatives and friends.

Visitation will be from 5 to 7 Monday, July 18, 2022 at Grimes Funeral Chapels in Kerrville.

Graveside services will be held at 9:30, Tuesday, July 19, 2022 at the Garden of Memories Mausoleum with Frankie Enloe officiating.


8 Condolence(s)

Thomas Chesnutt
Tonitown, AR
Wednesday, July 20, 2022
Prayers for your family on your loss.

Linda Kissee Pringle
Pettus, TX
Saturday, July 16, 2022
A beautiful person inside and out! She will be missed by all who knew her! I hope your memories will help you through this very difficult time. Love to you all from South Texas!


Carol Rubright
Kerrville, TX
Saturday, July 16, 2022
It was so wonderful working with you years a go. My god bless you my friend.

Larry & Shawn Routh Jr
Midland, TX
Friday, July 15, 2022
Such a beautiful soul! So many amazing memories with her and Terry Wayne. She was always there for us. Always loved us as her own. . I shared many tongue lashings with Terry Wayne from Aunt Janice. Lol! Heaven has gained an Angel that we've always had here on earth. Rest in piece Aunt Janice.

Patty killam
Pettus, TX
Friday, July 15, 2022
What a beautiful lady. I'm so thankful for the visit we shared together several years ago after many years from seeing each other. We laughed and reminisced our high school years. I rejoice with your beloved family that the suffering and pain is over. May the peace of God comfort your sad hearts with thanksgiving for the time shared and mem
ories made together. Love and prayers.

Charlene Hierholzer
Karnes City, TX
Friday, July 15, 2022
What a sweet dear friend…..had many good times at PHS! Will never the memories!
May she Rest In Peace. And may God bring all of you peace and comfort.

God's Blessings,
Charlene Merks Hierholzer

Stephanie Varga
Boerne, TX
Friday, July 15, 2022
Sorry for your loss.

Kay Oliphant
Uvalde, TX
Friday, July 15, 2022
My sweet sweet friend. I am going to miss our texts and conversations so much. You were so dear to me in the 40 plus years we have been friends. My heart is broken but know you are no longer in pain and flying high with the angels. Thoughts and prayers go out to your family during this time. Rest in peace Janice.