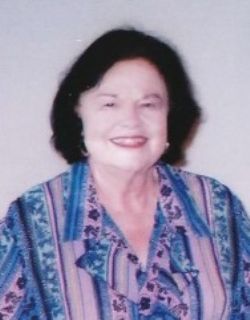 Mass
Notre Dame Catholic Church
909 Main St.
Kerrville, TX 78028
Friday, July 22, 2022
10:00 AM
Map & Directions


Send Flowers
Rebecca Brown McCracken
of Kerrville, TX
September 3, 1935 - July 17, 2022
---
Rebecca Brown McCracken passed away in her sleep on Sunday, July 17, 2022 at her home on Wildwood Ranch in Kerrville, Texas.

Rebecca was born in Houston, Texas to Rebecca and Joe Brown on September 3, 1935. Her beloved husband of 54 years preceded her in death. Her final resting place will be on her lovely Wildwood Ranch in a mausoleum personally designed by Rebecca especially for the two of them.

Rebecca McCracken was a kind, selfless and heartily philanthropic lady. She was a successful business lady for many years and owned the Rebecca Limited, a retail salon specializing in gems, jewelry, accessories and high-end fashions.

Rebecca was very supportive of her husband's insurance business of 35 years. They devoted themselves to helping and serving others. Foss visited the Hill Country in the early 1990s because of a funeral of a client. He saw the beauty of the Hill Country and decided that they would spend their retirement in Kerrville.

Philanthropy was Rebecca's special interest. She was a constant and faithful donor to many causes and medical research. However, her special love was Notre Dame Catholic Church.

A Mass will be celebrated in Notre Dame Catholic Church, 909 Main St., Kerrville, TX on Friday, July 22, 2022 at 10:00am with Bishop Mike Boulette celebrating the Mass. There will be no public burial at this time.

Special thanks to Peterson Hospice and the many caring ''angels'' that provided Rebecca with their special care.



1 Condolence(s)

Thomas Rogers
San Francisco, CA
Thursday, July 21, 2022
Becky Lou and Buddy were two of my godparents (Becky Lou and my mother Karen are first cousins), and they were always very kind and loving! I always enjoyed seeing them at family gatherings in Houston, and I was glad that my sister and I were able to visit them in Kerrville, where they were clearly very happy. Thank you to Notre Dame Catholic Church for giving Becky Lou a spiritual home, and thanks to Bart for helping care for her. I will always keep Becky Lou and Buddy in my memories.