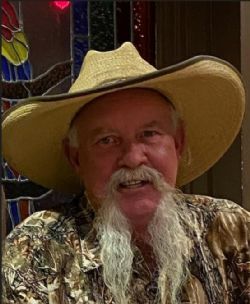 Memorial Service
Calvary Temple Church
3000 Loop 534
Kerrville, TX 78028
Saturday, August 6, 2022
10:00 AM
Map & Directions


Send Flowers
M. Travis Lackey
of Kerrville, TX
October 25, 1957 - July 17, 2022
---
M. Travis Lackey, 64, of Kerrville, passed away on July 17, 2022 in KerRVille. Travis was born in Bertram Texas to William (Bill) and Melba Lackey on October 25, 1957. He married Jeanne Tomlinson on September 2, 1995 in Odessa Texas.

Travis went to school at Georgetown High School in Georgetown, Texas, which he graduated from in May 1976. Travis worked as a heavy equipment operator (finish blade man) for J3 Company for nine years. Before his employment with (J3) company, he was a well-known and respected carpenter and custom cabinet maker for many many years. He took great pride in his work and achievements throughout his life. Travis was involved in FFA throughout his middle and high school years and showed prize-winning sheep, pigs and chickens. He loved hunting, fishing and many other outdoor activities. He loved sharing his passions for these activities and work experiences with his children and grandchildren. He loved his family dearly and was a great friend to many and never met a stranger.

Travis was preceded in death by his father, William (Bill) Lackey; and sister, Arlene Ringer.

Travis is survived by his wife, Jeanne Lackey; sons, Mark Lackey Jr., Seth Featherstone and wife Maria and Barry Tomlinson and wife Dawna; brother, Steve Lackey and wife Kathy; sister, Elaine Baker and husband Doug; mother, Melba Lackey; and brother-in-law, Larry Ringer; grandchildren, Mark Lee, Mason, Maddi, Trent, Virginia, Christopher, Cody, Cory, Britni, Dalton and Austin; great-grandchildren, Pyper, Taytum, Sophia, and Caleb.

Memorial services will be held at 10:00 AM, Saturday, August 6, 2022 at Calvary Temple Church, 3000 Loop 534, Kerrville, TX 78028, with Pastor Heath Way officiating.

The family of Travis Lackey wishes to extend our sincere thanks to the Kerrville police and first responders, Peterson Regional medical center, and the ER doctors and nurses.


6 Condolence(s)

Kathy Shepherd Underwood
Liberty Hill, TX
Monday, July 25, 2022
My deepest condolences to the Lackey family.
Travis was one of those "larger than life" people.
I went to high school with Travis in Georgetown
at the time Liberty Hill didn't have a high school.
May all your wonderful memories bring you comfort

Kathy Shepherd Underwood

Paul J. Levy
Killeen, TX
Sunday, July 24, 2022
RIP...YOU WERE A GREAT FRIEND, LOVE YOU BROTHER!!!

Carol Walston Roll
Pflugerville, TX
Friday, July 22, 2022
So very sorry for your loss. Sending prayers.

Robbin Lackey Adams
Kingsland, TX
Thursday, July 21, 2022
Travis Lackey was my first high school Sweetheart. We meet in Florence Texas and spent out Senior year. He was a Amazing person. After high school we married. Following a year together I became Pregnant with Our First born son Mark Travis Lackey Jr. He was a proud Daddy as I was very Proud Mother. You always feel love for a person like he was. I'll miss him and He's son Mark missing him already.
Fly High Travis
Love Always Forever
Robbin

Jerry and Jan Jansen
Georgetown, TX
Wednesday, July 20, 2022
We are so saddened to hear about the passing of Travis.
I grew up with Travis and all the Lackey bunch.
Travis was the kindest man I've eve met. He was kind and compassionate.
He will be missed.
God's blessings for the family .
Till we meet again Travis Lackey!
Jerry and Jan Jansen


James Wear
Florence,
Tuesday, July 19, 2022
Years could pass between seeing Travis and yet it seemed like no time at all...loved him like a brother and will never forget his laughter or his leadership on the football field.