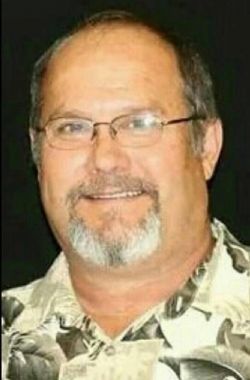 Visitation
Grimes Funeral Chapels
728 Jefferson St.
Kerrville, TX 78028
Monday, August 8, 2022
4-6 PM
Map & Directions


Send Flowers
Rosary
Grimes Funeral Chapels
728 Jefferson St.
Kerrville, TX 78028
Monday, August 8, 2022
6:00 PM
Map & Directions

Memorial Mass
Notre Dame Catholic Church
909 Main St.
Kerrville, TX 78028
Tuesday, August 9, 2022
12:00 PM
Map & Directions


Send Flowers
Garden of Memories Cemetery
3250 Fredericksburg Rd.
Kerrville, TX 78028
Map & Directions


Send Flowers
Shawn Manahan
of Kerrville, TX
November 16, 1965 - July 28, 2022
---
Shawn Manahan, mostly known as ''Papa Shawn,'' was born November 16, 1965 in Odessa, Texas, and peacefully reunited with his son on July 28, 2022, surrounded by his family and loved ones. Papa Shawn was loved by so many people. He will be remembered for the love he had for his family and his amazing sense of humor.

Shawn was preceded in death by his mother, Paula Whisenhunt; his father, Larry Norman; his son, Louis Shawn Manahan; and his sister, Deena Norman.

He is survived by his wife, Diane Manahan; his daughter, April Yosko, and her husband, Kevin Yosko; his son, Justin Manahan, and his wife, Hayley Manahan; daughter, Jenny Roth; daughter-in-law, Kristin Langlois; his sister, Kellie Von Rosenberg, and her husband, Jeff Von Rosenberg; his sister, Lezlie Veach, and her husband, Charlie Veach; father-in-law, Felix Gomez Sr. ''Grandpa'' and mother-in-law, Mary Gomez ''Grandma''; and countless cousins, nieces, nephews and other loved ones. Shawn has 14 grandchildren that he adored: Katelyn, Jakob, Hayden, Jayden, Tatum, Kyleigh, Rylie, Shianne, Shayla, Shelby, Shaniah, Carter, Kody, Lillian; and one great-granddaughter, Everleigh.

Papa Shawn loved spending time on his back porch with family and friends and hanging out in his pool. He loved his Harley and going on rides with Diane; getting some ''wind therapy'' as he called it. He loved going on annual cruises with Diane in memory of their son, Louis.

Shawn was a member of the Notre Dame Catholic Church and would attend Covenant Life Fellowship to watch his daughter, April, sing. He devoted his time to making sure his family never went without. He worked for Ferguson Enterprises for 23 years and he loved all of his Ferguson family and customers.

His family will keep his love and memory alive with his annual 4th of July parties and many other gatherings.

A visitation will be held from 4-6 PM, with the Rosary at 6 PM, Monday, August 8, 2022 at Grimes Funeral Chapels, officiated by Deacon Sonny Kaufhold, followed by a message from Pastor Jack Williams and an opportunity for friends and family to share memories.

A Memorial Mass will be held at 12 Noon, Tuesday, August 9, 2022 at Notre Dame Catholic Church with Father Rafal Duda as celebrant. Burial will be held at Garden of Memories Cemetery.

5 Condolence(s)

Bea Taliaferro
Ft. Worth, TX
Monday, August 8, 2022
Diane and family,

You and your precious family are in our hearts and prayers.

May the sorrow you feel in your hearts lighten by the love that surrounds
y'all.


Love,
Wayne & Bea Taliaferro
Bill & Martha Villanueva Family

Sandra Huerta
San Angelo, TX
Saturday, August 6, 2022
Sending prayers and blessings you will be missed

Estefani Loeza
Kerrville, TX
Wednesday, August 3, 2022
I am so glad I got to meet uncle Shawn. We both shared the same love for our favorite band Metallica and I will forever rock out in his memory

Dusty & Kim Engleman
Kerrville, TX
Wednesday, August 3, 2022
" Gone from our sight , but never from our heats ."

Jim Brown
Amarillo, TX
Sunday, July 31, 2022
Lou Anne and I are walking with you during this time.we will continue to keep in our prayers as you come to mind.
Our love,
Jim and LouAnne Brown