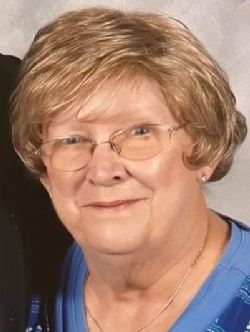 Memorial Service
First Christian Church
1900 Goat Creek Rd.
Kerrville, TX 78028
Saturday, August 6, 2022
11:00 AM
Map & Directions


Send Flowers
Jan Leslie Rains
of Kerrville, TX
May 29, 1949 - July 29, 2022
---
Jan Leslie Rains of Kerrville, Texas passed away peacefully with her husband and daughters by her side on July 29, 2022 at the age of 73.

Jan was born on May 29, 1949, in Kansas City, MO. Her loving parents, Maynard and Ruth Pettit predeceased her.

She grew up in Kansas City, MO with her parents and brother later moving to Florissant, MO where she attended McCluer High School. Jan developed a passion for animals at an early age, especially dogs and horses. After graduating from high school in 1967, Jan began her business studies while working for McDonnell-Douglas aircraft company where she worked as a computer key punch operator. Jan married and later moved with her daughters to Texas, where she made the Hill Country her forever home. Shortly after moving to Kerrville, she began working at Riverhill Country Club and Hill Country Telephone Cooperative, where she worked for several years.

In 1980, Jan met and married the love of her life, John Wiley Rains. They shared 44 years of adventures together including raising their six daughters, having a successful business, riding horses, sailing, fishing off the dock at their once home in Port Aransas, family vacations, traveling the world, and loving on their dog, Jasper. Jan had a strong conviction and faith and was the voice of reason and logic for many. Jan loved decorating for each holiday throughout the year and sharing special traditions with her children and grandchildren. She was a person with a huge heart who loved her family and grandchildren beyond imagination. She felt that her grandchildren were extraordinary gifts and she loved them with her whole heart.

Jan is survived by her husband, Wiley; six daughters, Lacey Keune, Amy Patrick, Jenny Langfeld (Greg), Wendy Hammon (David), Renee' Munoz, Misty Marshall (Shirl); and ten grandchildren, Grant Langfeld, Riker and Ridge Patrick, Mason and Walker Hammon, Triston, Seth and Isaiah Munoz, Maddison Rains and Brendan Marshall; as well as her brother, Jim Pettit (Connie); and numerous cousins, nephews and nieces.

A memorial service will be held to celebrate her life on Saturday, August 6, 2022, at 11:00 a.m. at First Christian Church (1900 Goat Creek Road) in Kerrville, Texas.

In lieu of flowers, the family requests you make a donation in Jan's name to your local animal humane society.


8 Condolence(s)

Debbie Tschoepe
San Antonio, TX
Friday, August 5, 2022
Wiley & girls- So very sorry to hear about Jan She was truly one of those people that becomes a life-long friend. I have thought about her and all of you many times over the years. I carried all of you in my heart. Although we were separated, I never forgot our bond! She was truly more like a sister to me than a friend. I knew she was always with me as I was with her! Love and prayers to all of you- Debbie(Cummings) Tschoepe

Walt & Jan poppe
Kerrville, TX
Thursday, August 4, 2022
Wiley and family,

So sorry to hear of your loss of Jan. Enjoyed being neighbors and and Ingram Warriors when our kids were in school. May your wonderful memories bring you comfort and peace.

Sam & Harriett Lock
Carrollton, MO
Tuesday, August 2, 2022
Our deepest sympathy to all the family

Amy & Lloyd Cole
Cypress, TX
Tuesday, August 2, 2022
We are very sorry for your loss. Praying for the entire family. She loved all of you very much. Cherish and hold on to all your wonderful memories. Love and hugs to all of you!

Pat and Rich Carpenter
Euless, TX
Monday, August 1, 2022
Wiley and family,
We are deeply saddened by the sudden passing of Jan!
Our times of sharing dinners and visits were special for both of us.

Be assured that all of you are in our hearts and prayers!

Rich and Pat Catpenter

Erlinda/Judy
Jourdanton, TX
Monday, August 1, 2022
Condolences to the family, our thoughts and prayers to the family.

Lily Duren
Glen Rose, TX
Monday, August 1, 2022
I'm so very sorry for your loss. I'm sending my deepest condolences to each of you. I know loosing her is hard and I will be praying for strength and peace for your hearts.

Marie Hudson
Grand Barachois,
Monday, August 1, 2022
I was very sad to hear of Jan's passing. We shared some years in the Riff-Raff group online, and became good friends. I had the great privilege of meeting with her twice—once in Washington and again at her home in Kerrville. She brought me comfort when I needed it most following my husband's death. I will always treasure her friendship and kindness. I truly feel her loss. My most heartfelt condolences and prayers go out to Jan's entire family, and especially to Wiley, her beloved "Mr. Wonderful". Rest In Peace, dearest friend.